New York Daily News Spoils Avengers Vs X-Men 11 Death In The Headline – Bendis States The Character "Would Matter More In Death"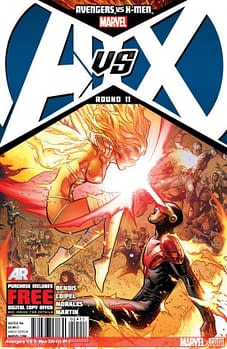 If you want to remain spoiler free from the events of Avengers Vs X-Men #11, published today, stay off the internet. Seriously, get off now. Immediately.
At midnight ET, the New York Daily News, in a publicity agreement with Marvel Comics, ran the identity of the individual who will meet their death in Avengers Vs X-Men #11, and the circumstances in which it occurred. A picture of the aftermath. And the AR code to that New York Daily News readers could get the full backstory, although that isn't timed to trigger yet.
And in a fashion that will likely enrage a number of viewers, Brian Bendis talks about the character who delivers the fatal blow… and you could probably read between the lines to see who it is, so be warned;
"He was this thing that was just floating around the X-books, with not the same amount of gravitas that he once had," says Brian Bendis, who wrote the issue. "I did point out that he would matter more in death."
With Tom Brevoort adding,
"This is about as serious and lasting a death as you're apt to get in one of these."
So they'll be back in January then? Or are we going for something closer to Gwen Stacy?