As we followed closely here at Bleeding Cool, Alan Moore and Mitch Jenkins Kickstarted the final installment of their short film series entitled His Heavy Heart and made their goal by quite a margin, and plenty of Bleeding Coolers turned out to help the film on its way. As a group, the five short film collection from Lex Projects form the template of a very likely move to a feature film called The Show. I reviewed the first four films shortly after their digital Kickstarter release and commented on the way in which a gradual process of "revelation" in the films increases your understanding of character and the big picture of events. His Heavy Heart was preceded by:
Part 1: Act of Faith
[youtube]https://www.youtube.com/watch?v=hwPYKx_BK5E[/youtube]
Part 2: Jimmy's End
[youtube]https://www.youtube.com/watch?v=EdgC09C7GVE[/youtube]
And you can watch the "animated Storyboards" for Jimmy's End here too:
[youtube]https://www.youtube.com/watch?v=l7UGdcHrtq0&list=PLLAoY5ZcVk-1dnhfa5AbcfjsiBGYBVllv&feature=c4-overview-vl[/youtube]
His Heavy Heart was also preceded by Part 3: Upon Reflection, and Part 4: A Professional Relationship.
Shooting on His Heavy Heart started in Northampton last weekend, and supporters have been receiving Kickstarter updates that included casting images and some teaser photos of the set, which appears to be a distinct location from the Jimmy's End club where several of the previous shorts took place.
A further teaser–I made it out to the filming location myself a couple days into shooting, and stay tuned for my account on Bleeding Cool of the descent into the strange that really takes the whole film series to a new level thematically and visually in His Heavy Heart.
As released by the project, for casting we have:
Steffen Peddie – Who is playing the character "Aphopsis" Khandie Khisses who is back as "Beryl" Andrew Buckley returning to his role as "Bobbles The Clown" Darrel D'Silva returns as leading man Jimmy And here are some images shared by the film project capturing their set and the early days of filming: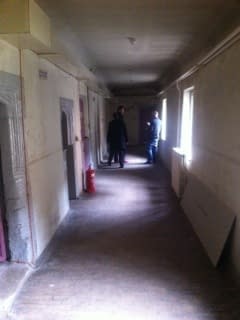 Yes, that's Rice Pudding. Never has it inspired such fear in the beholder. Look out for further updates on His Heavy Heart and some secrets from the set…
Hannah Means-Shannon is EIC of Bleeding Cool and @hannahmenzies on Twitter
Enjoyed this article? Share it!