REVIEW: Legion Of Super-Heroes #3 — "That's All Very Weird"
(DC Comics, creative team: Brian Michael Bendis, Ryan Sook, Travis Moore, Wade von Grawbadger, Jordie Bellaire, Troy Peteri)
Let's start with the good news: the future looks fantastic. The color palette, the lighting effects, the crisp linework, it's all gorgeous. The Legion hasn't looked this good since the late, lamented Waid Kitson Reboot Period (taken from us far too soon), and that's good news. Next, actual Legionnaires do things in this story, so that's a plus. Ultra Boy deals with problems on his homeworld, Cosmic Boy is dating Shadow Lass (she calls him "loveball"), Colossal Boy is debating a name change, Mon-El is sensitive, there was an interesting interrogation scene … all kinds of stuff is going on. All that is fine. Then there are the challenges. There's a very, very strange bit about Robin (and a reference that seems odd to still be in use a thousand years later when they make a much better Mongul gag). The plot, such as it is, is super messy (no pun intended). Likewise, for all the power they bring to bear, the Legion don't really seem to know what the heck they're doing. They're not exactly incompetent, but they could hardly be described as competent either. That's all very weird. Likewise, everything with Rose from the last few issues is completely ignored here, so it's like that stuff didn't matter. Overall, this book fell down too much to be good, but it's far too pretty and bright to be bad. There's only one way to take that … RATING: MEH.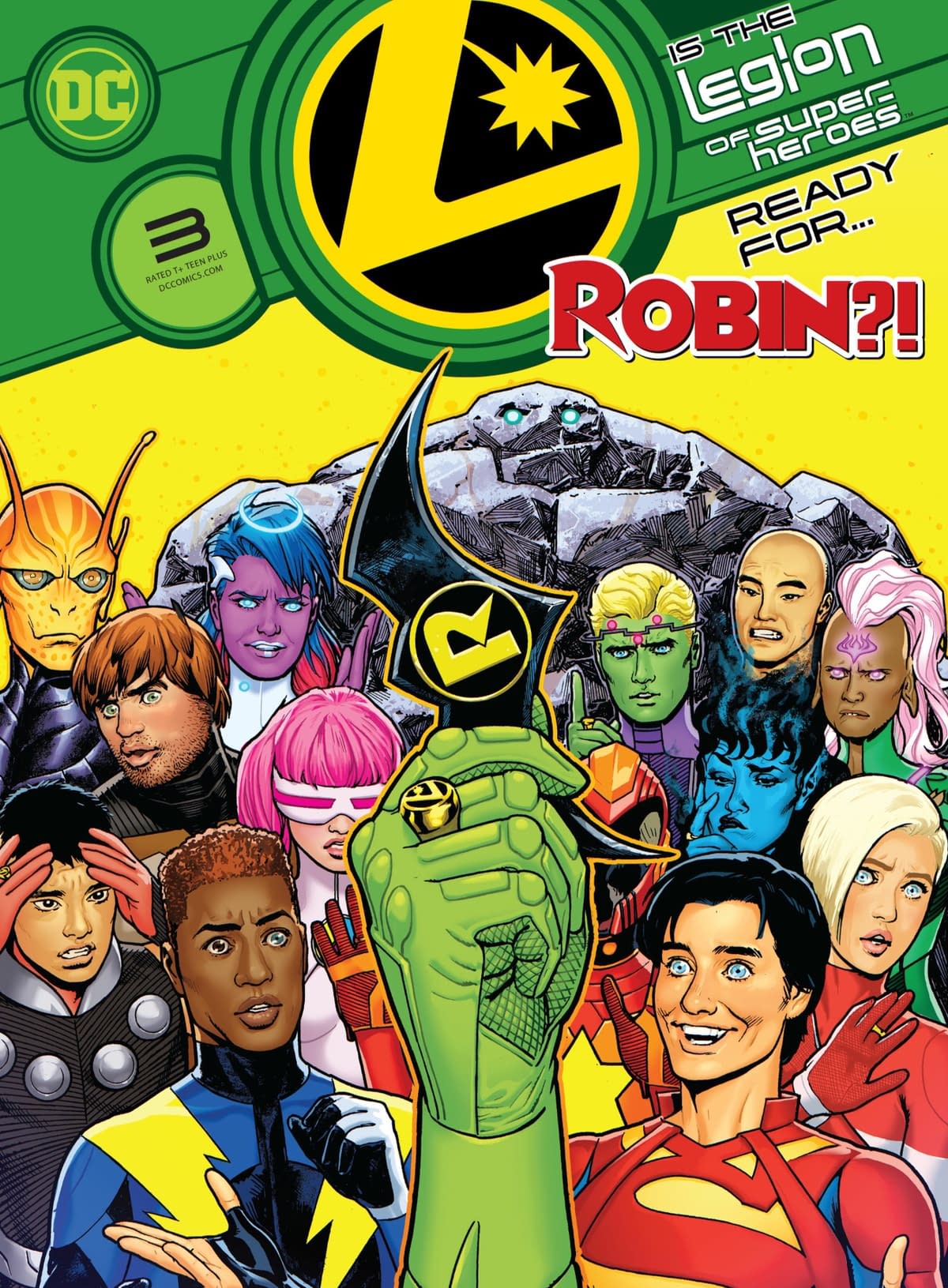 LEGION OF SUPER-HEROES #3
written by BRIAN MICHAEL BENDIS
art by TRAVIS MOORE and RYAN SOOK
cover by RYAN SOOK
card stock variant cover by JIM CHEUNG
You knew there was no way Jon Kent was going to leave his best friend behind! Welcome to the future, Damian Wayne! (This is such a terrible idea!) Also, meet the new Legionnaires as they head to a secret undercover mission on the first man-made planet: Planet Gotham. Every page of this new DC epic plants seeds and ideas that will blast out across the DC Universe for months to come! All this, and Monster Boy is on the loose!