Sentry #1 Review: Nostalgia to Save the World
The Sentry is back…or at least Bob Reynolds is back. Doctor Strange found and revived Bob, but he can't be the Sentry without risking the return of the Void. To maintain the balance, Bob uses the Confluctor. It's a device that creates full world within Bob's mind where he can be the Golden Guardian once more and save the world. In the real world, Bob is a fry cook with his old partner Billy, aka Scout.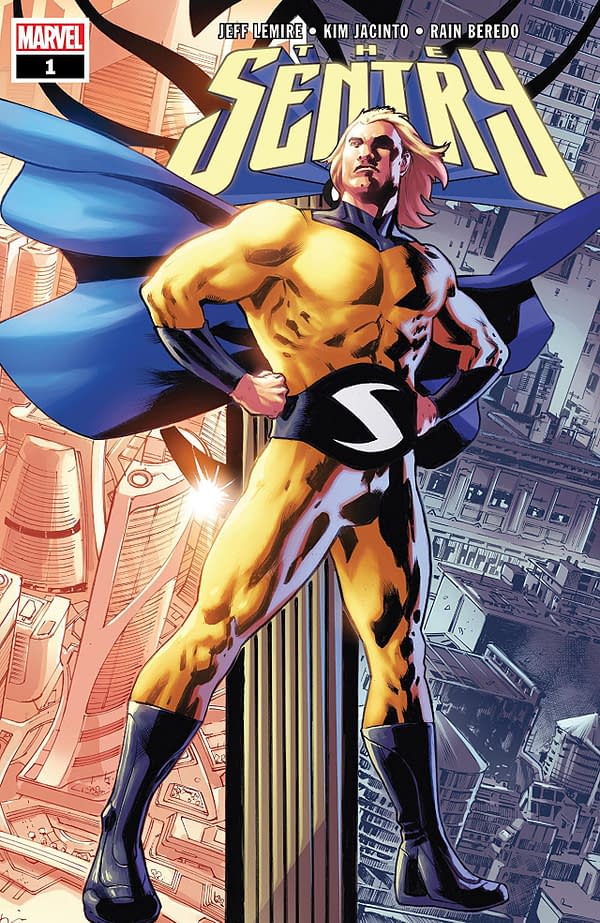 Between Sentry #1 and the Black Hammer line of titles, Jeff Lemire has an affinity for writing stories about life after being a superhero. In the case of Bob Reynolds, he is barely adjusting to a mundane life with his former sidekick. He gets to be the Sentry still, but it's only in his mind and has no impact on the real world. He survives on nostalgia, and his nostalgia is literally saving the world from himself.
That is a weirdly specific premise that seems ripe for contemplation on the superhero genre while getting to be a Marvel comic and part of its canon. The brilliant Doctor Star and the Kingdom of Lost Tomorrows did much of the same and focused on the theme of nostalgia and living boyhood fantasies. It's worth mentioning that Bob's version of the world is intentionally corny and comes with characters like Scout, Watchdog, and "Sentress," deliberately drawing upon the Captain Marvel (Shazam) family of years ago.
This is admittedly me pontificating a lot, but, if you can't tell from me rambling on endlessly about contemplation and self-analysis, I do like this comic a lot and find the storytelling very smart.
Kim Jacinto's art does a lot to reinforce this feeling of a world that has left Bob Reynolds behind. Bob is hairy, out-of-shape, and frequently has eyes narrowed and back arched. His nose is weirdly severe and pointed, but that doesn't distract too much from the general excellent detailing and unique visual identity of the book. Rain Beredo is the color artist on this one, and the palette is a nice balance of bright, golden shades and dimmer gray grounding colors.
Sentry #1 is another excellent self-conscious superhero title from Jeff Lemire, and it does so without going fully meta, which is an overused tactic in modern comics. The story is compelling, and Bob Reynolds is made to be an interesting character to follow. This one gets a recommendation. Give it a read.