Supergirl #21 Review: The Avenger of Krypton
[rwp-review-recap id="0"]
Supergirl is still reeling from the destruction of Kandor and the discovery that Rogol Zaar is responsible for the death of Krypton. She's decided that she will go to space to investigate, but Superman isn't thrilled about this. He tries to talk her out of it, but she holds to her plan. She then goes to Coast City to talk to Green Lantern Hal Jordan about the axe Rogol Zaar left behind. He scans it again, and what he finds has been redacted from Green Lantern databases.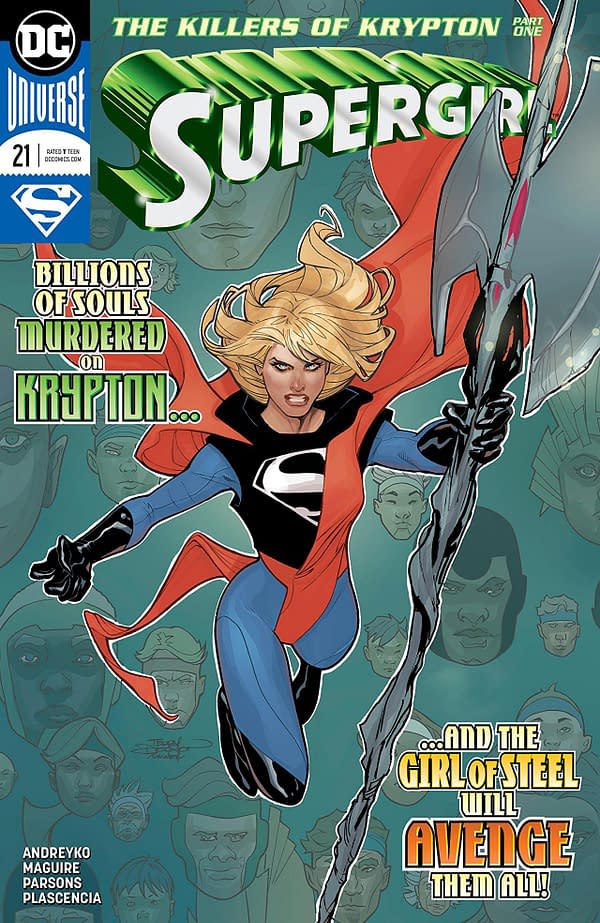 Supergirl is back! And she's a bit miffed. This represents a dark pace in the story of Kara Zor-El, but it's entirely understandable.
The comic justifies this anger and sorrow by reminding the reader that Kara is technically older than Kal and was a teenager when Krypton exploded. She remembers what the planet was actually like, and all Kal has is artifacts, stories, but no memories.
The comic isn't all doom and gloom. The strife between Kara and Kal is resolved, and Hal gets the odd chance to play as some comic relief. Plus, there is the ever-lovable Krypto the Superdog to lighten up the mood.
It is odd to see Supergirl as an avenger, but she has shown the potential to be darker than Superman in the past. I'm interested in seeing where this story goes and glad to see Kara Zor-El back.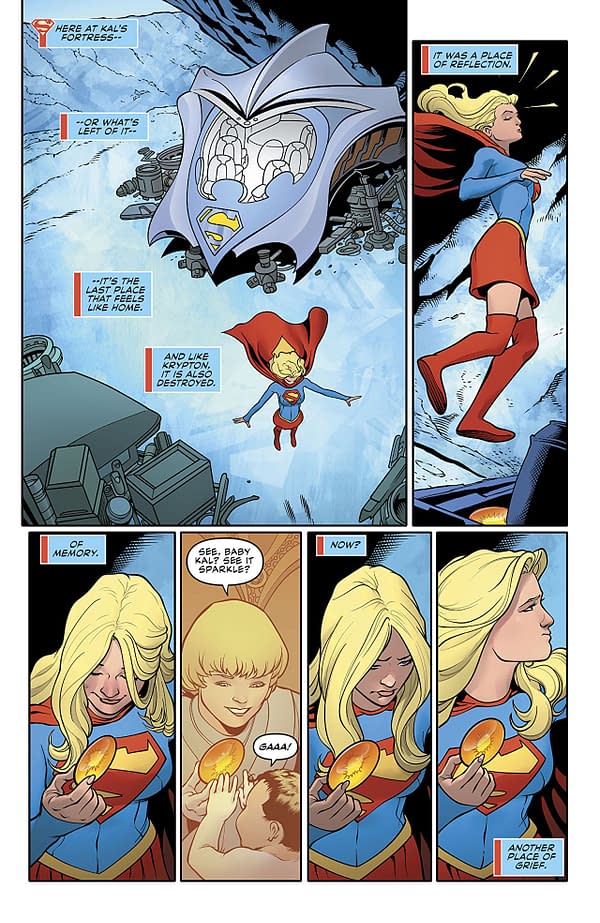 Kevin Maguire is a very welcome addition to the book too. His artwork is often quite stunning, and he gives a wonderful treatment to Supergirl here. The costume flows well, and we get to see the subtlety of emotion in well-crafted moment-to-moment panels which show the changes in Kara's face. Hal looks a bit odd with spiky hair; it almost makes it look like he's been conflated with Kyle Rayner. That's a minuscule dig, though, and doesn't really bother me. The overall comic is gorgeous and is greatly helped along by FCO Plascencia's excellent color work too.
Supergirl #21 is a promising new start for the Girl of Tomorrow as she begins her investigation into the death of Krypton. Marc Andreyko keeps the emotions at the forefront of the story, and Kevin Maguire, Sean Parsons, and FCO Plascencia do great work on the visuals. This one earns a recommendation. Check it out.
[rwp-review-ratings id="0"]
[rwp-review-form id="0"]