Superman's Mustache Origin On Auction At ComicConnect Today ComicConnect Sponsored Post
Superman and his mustache have been the subject of much debate in the world for many years now since the debacle of Josstice League and the Snyder Cut and all that went on with all that. But what if I told you that his mustache had been around much, much longer than we all thought? On auction today at ComicConnect is a raw copy of Superman #35 from July 1945, and right there on the cover, you can see it: Superman's mustache. So there you go, it has always been there; they should have just left it in the film in the first place. Sitting at $57 as of this writing for a raw copy of one of the first issues of Superman, this is in really great shape. Check it out below.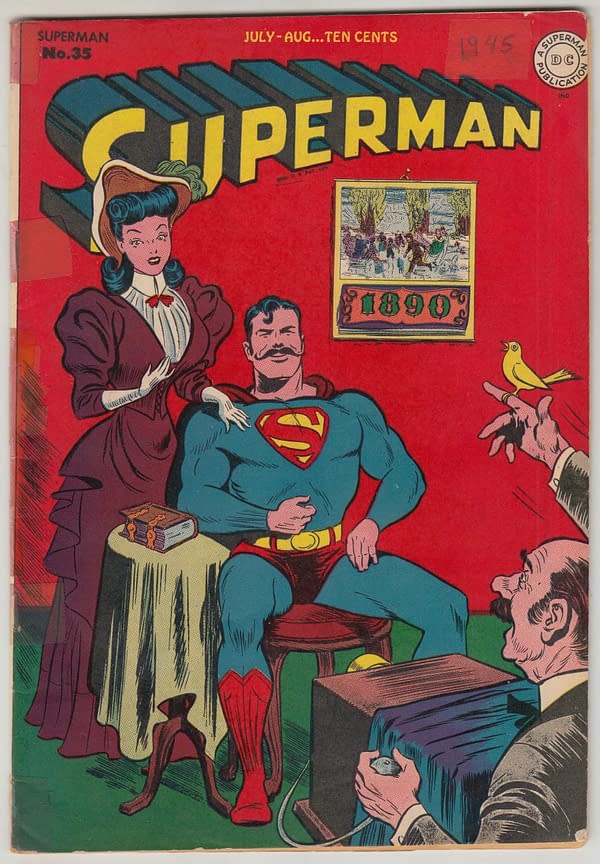 Superman Looks Good With Facial Hair
As a giant Superman fan, it is my goal in life to own a few golden age issues of his before all is said and done. My cut-off is issue #100; I only want them from before then. This is one of the nicest copies of #35 I have personally laid eyes on, and I gotta think whoever gets this copy is going to grade it, if nothing else, then to keep it in good shape as the year's pass. Yeah, there is tape, but there is no color break that I can see—very displayable copy.
The more and more I look at that picture, I think I may join you in bidding on this, fearless reader. Go here if you want to bid with me. While you are there, check out all of the other amazing deals in this Kentucky Collection lot they are offering, there are amazing deals to be had both graded and ungraded, and for any type of comic budget.