Titans #20 (Late) Review: The Titans are Apart, but the Writing and Art are Together
[rwp-review-recap id="0"]
The Titans are still apart. Arsenal is chasing down an Intergang drug trade when he runs into an old flame, Cheshire. Donna Troy is on the Justice League Watchtower until the League is confident that she poses no threat. Nightwing is helping Flash Wally West to move into his Keystone City apartment. Wally is unsure whether there is still a future for the team.
Off-page, Omen and Tempest are trying to see if their relationship will work, and Bumblebee is spending time with her family.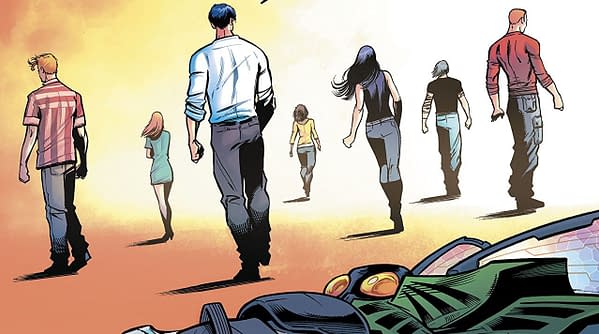 The bulk of the story focuses on Arsenal, Cheshire, and the Intergang plot. It provides a lot of action and a bit of emotional resonance. Roy makes plenty of questionable decisions despite his best intentions, and this plot proves to be a great focal point.
Donna's problems are interesting too, though they could use some fleshing out. Wonder Woman shows up to try and comfort Donna, but the Titan shrugs her off, still bitter about recent events.
Frankly, it is best that Omen, Tempest, and Bumblebee don't show up on the page. When you can summarize something like that so succinctly, it means that it probably wouldn't have provided much for the book.
The Nightwing and Flash section was arguably superfluous too. It mostly serves to show Wally's concerns about the future of the Titans.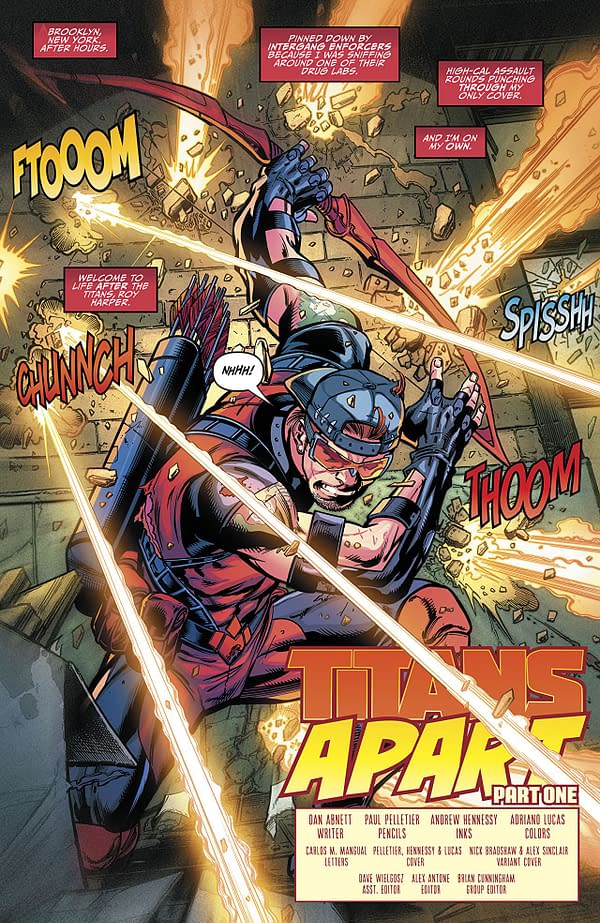 Paul Pelletier's artwork is quite great in this issue. The action scenes with Arsenal and Cheshire look great, and the impacts are satisfying. Pelletier has always been great at displaying emotion, even if the expressions do err on the side of overdramatic at times. That being said, he, the tight inking of Andrew Hennessy, and the bright color art from Adriano Lucas make for a gorgeous comic.
Titans #20 shows Dan Abnett to be quite adept at splitting up stories and making each one feel mostly engaging. Of course, his time on Heroes for Hire, Guardians of the Galaxy, and Marvel's cosmic sagas proved that years ago. In any case, this comic comes recommended, and you should check it out.
[rwp-review-ratings id="0"]
[rwp-review-form id="0"]