[rwp-review-recap id="0"]
We are given a flashback with Wolverine, Spider-Man, Jessica Jones, Iron Man, and Luke Cage during their New Avengers years. In the present, Iron Man, Luke, Spidey, and Jessica reunite to look for the now-missing body of Wolverine. Tony Stark knows of genetic material belonging to a hero that is going on sale on the black market soon. The four heroes go undercover to investigate in the hopes of finding the body of Logan.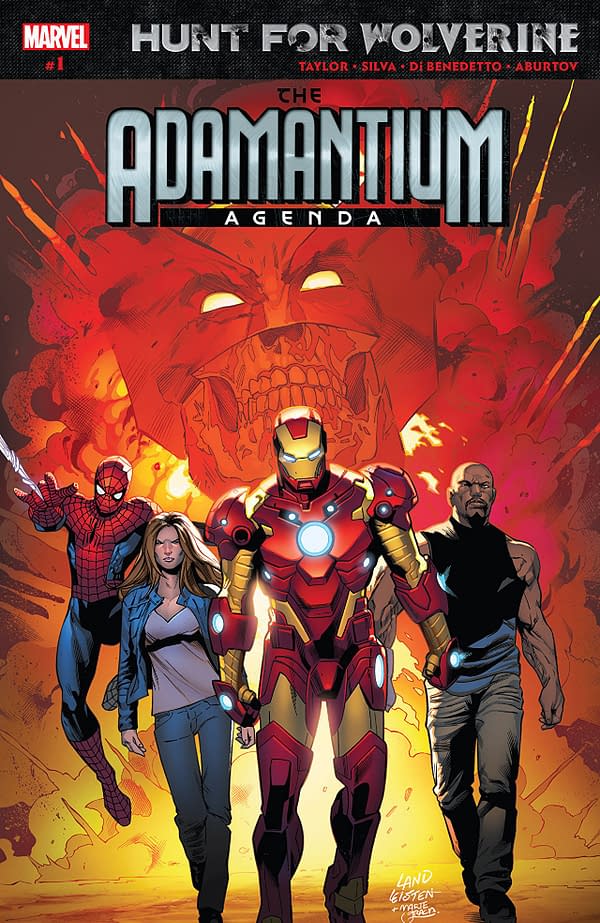 The Adamantium Agenda, from this start-point, is more loosely connected to the story of Hunt for Wolverine. Without spoiling anything, this plot doesn't end where you're expecting from the description.
Honestly, that's okay. The New Avengers were great, and any excuse to reunite even a part of the team is find by me.
Tom Taylor recreates the chemistry of this group well. The flashback scene is weirdly contrived, and it's supposed to give the New Avengers an incentive to recover the remains of Wolverine. However, you'd think that they would anyway simply because they were teammates and friends for a time.
That aside, the premise of these four heroes going undercover in a black-market auction is interesting, and the story takes an interesting turn towards the end.
Plus, Luke Cage and Jessica Jones are here, and that makes any story worth at least checking out.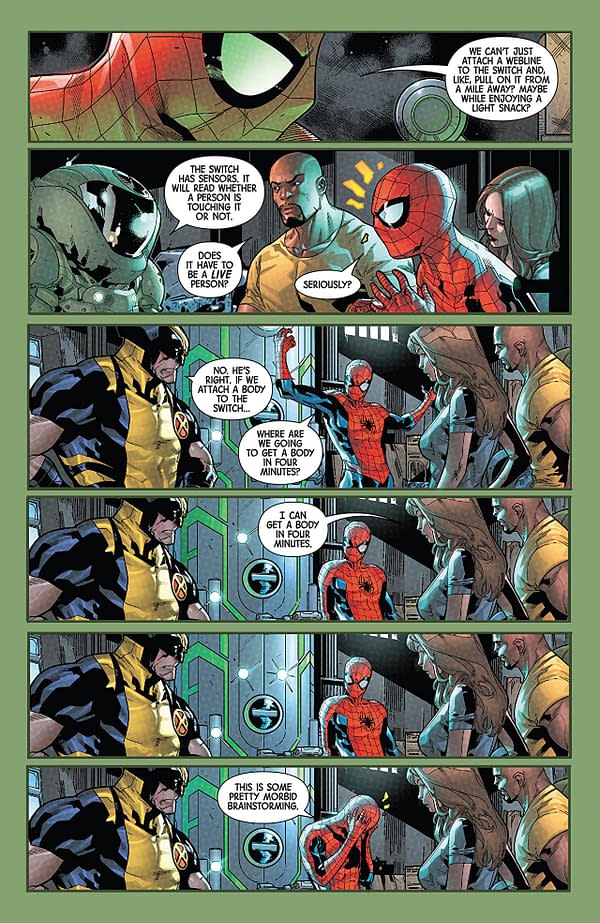 R. B. Silva's artwork is solid and improves on criticisms I've leveled towards the artist in the past. The detailing is solid, and the characters are expressive. Wolverine's head looks too large in some scenes. Silva and Adriano di Benedetto's inking is a little too thick for the style. Jesus Aburtov's color art is well balanced and appealing.
Adamantium Agenda #1 is an interesting and fun read. It has some fat that could be trimmed, and it doesn't seem to be well connected to the mainline Hunt for Wolverine story. That said, its positives far outweigh the negatives, and I can easily recommend it. Check it out.
[rwp-review-ratings id="0"]
[rwp-review-form id="0"]
Enjoyed this article? Share it!