Swords Of Sorrow: Masquerade / Kato writer's commentary by Erica Schultz
First, let me say that being a part of a crossover is like being a puzzle piece and not knowing what shape you are. You have to coordinate with all the other writers to see what story they're telling, where their story fits, and where your story fits into the stew that is the crossover. That said, this has been an incredible learning experience, and it's a real testament to Gail Simone and Dynamite for taking on this huge endeavor…Now…let's go to the videotape, er, I mean, pages!
Page 1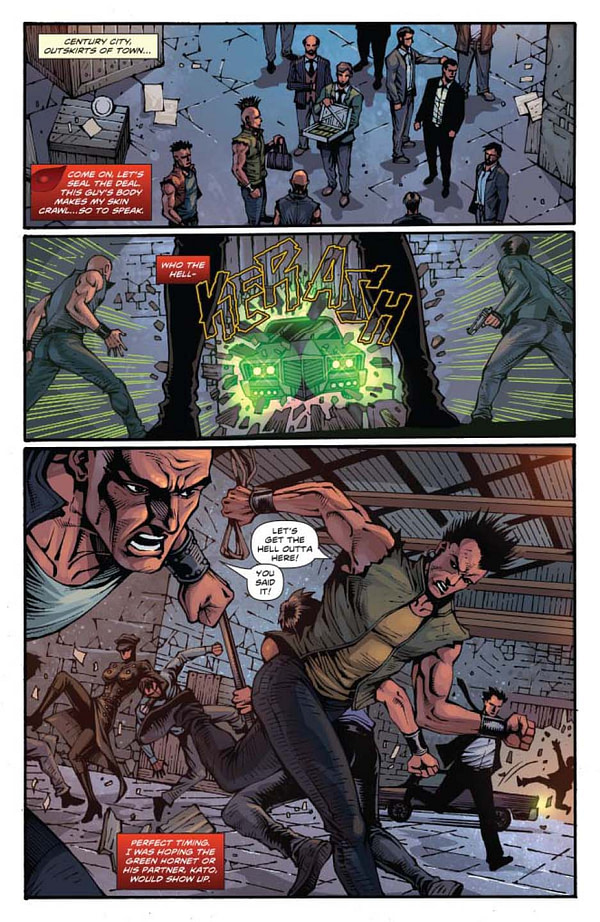 If you know anything about The Green Hornet mythos, you know that The Black Beauty (from here on out, referred to as TBB) isn't just a car…It's a character in and of itself. With that in mind, G. Willow Wilson came up with this great, fun concept of TBB being possessed by one of our big baddie's minions. So we sat back and thought about how this would happen, and where that idea would fit in the grand scheme of the crossover (hence the puzzle analogy above). Gail Simone had already written a badass scene with Kato, Jennifer Blood, and TBB in the first issue of the main Swords of Sorrow series, and we wanted to continue the coolness. I don't know who said it, but when in doubt, go back to the beginning. So we did by linking Kato and Masquerade in the same event as Gail's story.
It should be said that this version of Kato is from Kevin Smith's run on The Green Hornet. She's Mulan Kato, the daughter of the original Kato. Just as Britt Reid passed the mantle of Green Hornet onto his son, Kato did the same with his kick ass daughter.
Page 3
Masquerade was originally a Golden Age character who was first called Miss Masque, a socialite who fought crime and sought justice. When Dynamite got her, they revamped her as Masquerade. Still a socialite and still a young gumshoe looking for justice, Diana Adams had no superpowers but her intelligence, unending sense of curiosity, and two guns. During Project Superpowers, she and several other heroes were trapped for 70 years in Pandora's Urn. When released, Masquerade gained the ability to possess other people and take over their body. For those who were unfamiliar with her, we wanted to explain early on what the powers she had. Also, how can you not love what Noah Salonga, the artist, did with the last panel. It's intimidating and sexy and everything you want it to be.
Page 5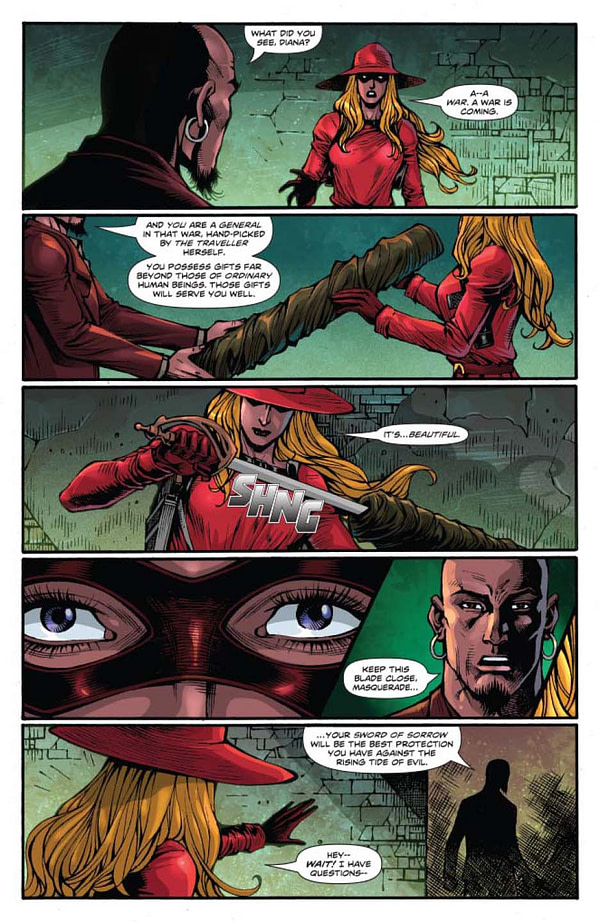 Panel four is my favorite from this whole book. There's a longing in Diana Adams' eyes that hits you.
Page 7 The motion on this page really is great. In the script, it was almost written like an animated scene, and Noah took that and ran (or jumped) with it. It really has a Matrix feel to it.
Page 11
We toyed with several ideas of where, or rather when, to put our ladies once the portal spit them and TBB out. We decided on the 1920s, as it was a time that Masquerade would possibly remember from her childhood, therefore we've given them some sort of anchor. We discussed maybe the Swingin' 60s…but that'd be a whole different kind of story.
Pages 14-15 Here is where we reveal what it's really like for Masquerade to possess someone. She gets inside your head and sees all your memories, your thoughts, your motivations. This is the big reveal to her that Kato and The Hornet aren't the bad guys, so it's really a turning point in their relationship. Also, for those not familiar with this incarnation of Kato, they can see how her mother dying and her father training her shaped who she is today.
Page 22
If you read the Chaos prequel written by Mairghread Scott and drawn by Mirka Andolfo (you BETTER have!), you learn that The Prince has not only pitted his Chaos women against The Traveller's team, but against each other. Here Purgatori failed, and our heroines prevailed…but what about next time? (Insert evil laughter here!)