Arrow Hero Oliver Queen Gets a Fancy New Figure From Star Ace Toys
Arrow is latest DCTV character to get a figure from Star Ace Toys. This Oliver Queen figure will ship in the fall of 2018.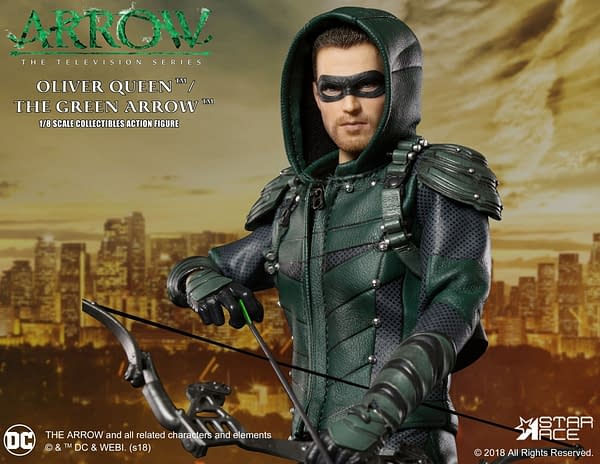 "After five years in hell, I returned home with only one goal: to save my city." – Oliver Queen
Now in its sixth season, the popular CW TV show, "Arrow" follows billionaire playboy Oliver Queen who returns to his home in Star City after being missing for five years. He takes on the mantle of Green Arrow to take back his city from the villains that control it.
Star Ace's 1/8 scale Real Master Series Green Arrow collectible figure features two head sculpts featuring both Oliver Queen and the masked Green Arrow. Also included is a full quiver of arrows (non-removeable) and an authentically styled battle suit. The deluxe version includes three extra specialty arrows.

PRODUCT SPECIFICATION

PRODUCT CODE SA8004A / SA8004B
PRODUCT NAME THE GREEN ARROW (S5)
SCALE 1/8 SCALE (APPROX. 22.5CM HEIGHT)
SERIES REAL MASTER SERIES

The 1/8th scale The Green Arrow collectible figure features:
-1/8th scale body, approximately 22.5 cm tall with articulation
-Fully realized authentic likeness of Stephen Amell as Green Arrow/Oliver Queen in the TV program "Arrow" (Season 5) with accurate facial expression and detailed skin texture, each head sculpt is specially hand-painted.

PARTS:
1. HEADS
– Masked head
– unmasked Oliver Queen's head

2. Six (6) interchangeable hands:
– One (1) pair of open hands
– One (1) pair of fists
– One (1) pair of hands for holding the bow and arrow

3. COSTUME:
– Green Arrow hooded battle suit
– Green shoulder pads
-Harness
-Thigh quiver
– Boots

4. ACCESSORIES:
– Bow
– Quiver with six (6) arrows (attached)
– One (1) x Standard Arrow
– One (1) x Flaming Arrow
– One (1) x Arrow with timer (SA8004A Deluxe version Only)
– One (1) x Trident Arrow (SA8004A Deluxe version Only)
– One (1) x Boxing Glove Arrow (SA8004A Deluxe version Only)

5. FIGURE STAND WITH WAIST CLIP
The costume here is incredible. I like that he has some room to breathe in that thing, it is not too tight and also does not hang too loosely off the body. Great job there. What is going to need some work is the Oliver portrait. The features are too soft and the expression on his face make him look lifeless in the various poses. The hooded portrait does look good however. This is just the prototype so they have enough time to tweak here and there.
For more info on Star Ace and their DC line, click here.