Boba Fett Gets the Life-Size Bust of Our Dreams from Sideshow
Boba Fett is getting a life-size bust based on his appearance in Return of the Jedi. Sideshow looks to have really outdone themselves this time. This one will go up to preorder today, and will retail for a whopping $1300.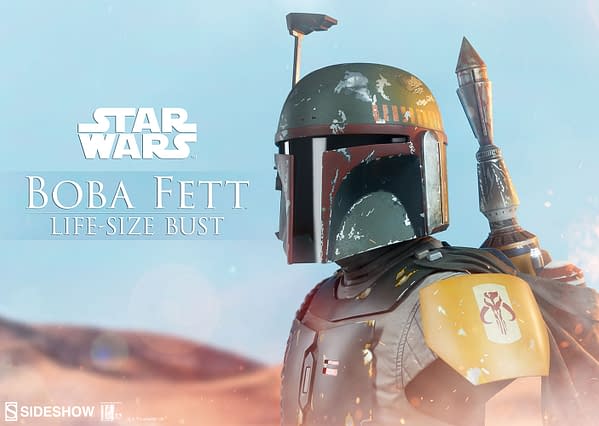 As you wish. Sideshow is proud to present the Boba Fett Life-Size Bust. Created in partnership with the talented artists at Legacy Effects, this bust captures the bounty hunter in all his notorious glory.

Measuring over 30" tall, Boba Fett has an articulated helmet, allowing you to display him on the lookout for his next target. His helmet also features an articulated range finder and synthetic hair Wookiee scalps adorning his shoulder as trophies of his seasoned past.

Boba Fett is crafted from fiberglass, polystone, and aluminum. His rocket pack and chest armor include light-up elements, allowing you a variety of options for displaying this piece in your home.

Collect a bounty and hire the Boba Fett Life-Size Bust for your Star Wars collection today!

Pre-Orders for the Boba Fett Life-Size Bust begin on Thursday, February 8th between 12pm-3pm PT, and the piece will be priced at $1,300.00.
Every intricate detail is accounted for here. I have never been a giant fan of Boba Fett, but even I think this would be awesome to add to my collection. Fett comes with an articulated neck, adjustable range-finder, and LED lights on the chest and rocket pack. I can't get over the mount of detail on the weathering on the helmet — it looks incredible.
Fans that can afford it will want to jump on this ASAP; they do not make a ton of them (for obvious reasons) and sometimes adjust them down to just make to order. If you would like to get yourself one of these, I would suggest going here now and preordering while you still can. And hey, look — free shipping!