Enjoying "Arena", and How You Should Too – "Magic: The Gathering"
I wrote up an article exactly one month ago about the new innovations which Magic: The Gathering: Arena is slated to roll out for the near future. If you recall from that article, in 2020 Wizards of the Coast will be implementing a number of changes to their competitive structure both online and on the tabletop.
Writing this article made me start to wonder if Arena was perhaps a good fit for me to play as well, so I made an account and got on. This is how it went.

At first, I found the interface very easy to make use of. I breezed through a tutorial which to many might seem tedious and got myself to roughly level thirteen in a night or two. I was making steady progress with a black/white life gain deck which I'd constructed out of cards from the preconstructed decks given to me initially. It was cool.
But, soon thereafter, I had taken to trying my hand at facing actual opponents – not just Sparky, Arena's resident solitaire bot, but actual, living, breathing people, all each sitting at a computer screen, looking as adamantly to take me down.
And honestly? Eh.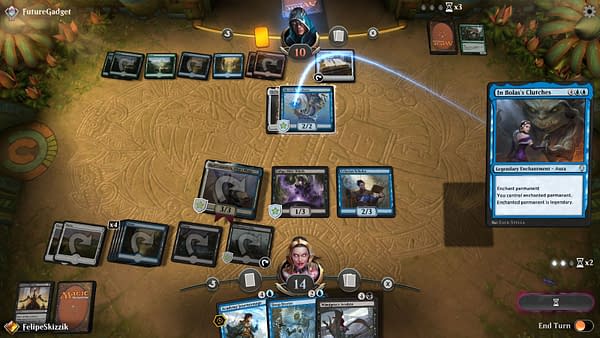 The very first game I played in Arena, granted, was in Ranked Constructed, meaning against players who had stronger cards and likely more resources to get better things than someone playing for free. I ought to make a point here that I am not (yet) putting any money into Arena, nor do I foresee doing so while tabletop Magic continues to exist. I faced down a version of the Temur (blue/red/green) Elementals deck which is so prevalent in tabletop Standard tournaments lately. Even though I had tried my best, the cards I had were ultimately failing me. I was trounced handily.
However, soon thereafter I realized that there is another form of Constructed player-to-player format which wasn't just Ranked. It's simply labeled "Play", and it was the saving grace of this game for me after Sparky got stale to face, again and again. Therein, people aren't playing for a title or anything like that – they're just playing either to grind for in-game resources or even purely for fun. It's not a bad method, either.

Now, one month after writing my article on what to expect from 2020 as far as Magic: the Gathering: Arena goes, I actually can say that I can't wait to see how the changes play out. I'm highly enjoying Arena, and you should too.
Just mind your format selection and don't be surprised when someone springs a ton of Risen Reefs in your face.