City Connection is bringing the cult classic Hoshi wo Miru Hito, a Famicom game from the late 1980s, to Nintendo Switch this summer. Though the game widely recognized for some of its austere mechanics, it's yet to have an official English translation, and it looks like it might finally be getting one. Hoshi wo Miru Hito ("People Who Watch Stars") is based on an earlier Japanese title from 1984 called Psychic City. Developed by Another, it takes its core gameplay from Psychic City, originally for the PC-8801, which followed a wide cast of characters who all had psychic powers.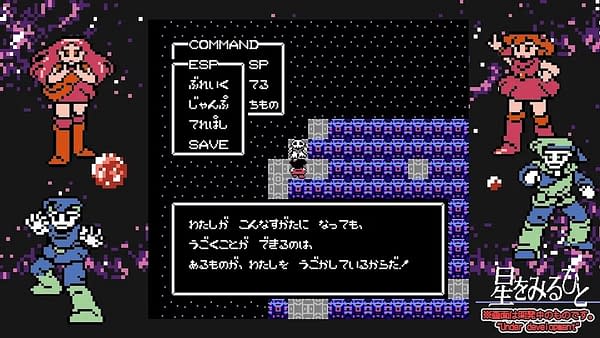 Set in a cyberpunk dystopian future, everyone has ESP. You can use them when you face off against a variety of monsters in combat, but you must first head to outer space after making your way to the Ark City. This isn't very easy, as the game is known for its austere difficulty and extremely frustrating elements.
There's a distinct lack of help or indication for what players should actually do in-game, and that's lead to many having called it a terrible title over the years. But it's very interesting as well, especially since it doesn't hold your hand. There's also no ability to escape from the battle at first, at least until you earn the skill to do so. There's only one place to restore health as well, and you have to go back to one particular town to do it.
If you like what you see, you can snatch Hoshi wo Miru Hito for $9.99 when it debuts later this summer, but there's no official release date just yet. It will only be available as a Switch eShop download as well. It's an interesting move, that's for sure, to bring it to the system. Hopefully, this is the start of several lesser-known titles coming to the console.
Enjoyed this article? Share it!