Freddy Krueger Becomes the First Talking Living Dead Doll from Mezco!
Freddy Krueger is returning to the Living Dead Doll series from Mezco Toyz — only this time he talks! The first talking Living Dead Doll, Freddy will say seven different phrases and has a $50 price tag. He will be shipping in early summer of this year and is currently up for preorder.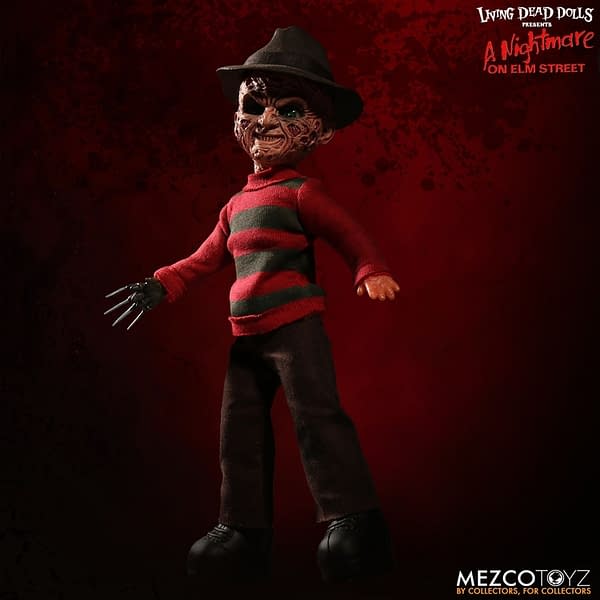 One, two, Freddy's coming for you…

Freddy Krueger returns to the world of The Living Dead Dolls with the first licensed talking Living Dead Doll ever produced. The grotesquely disfigured star of 9 Nightmare On Elm Street films says 7 fiendishly fun film phrases.

Freddy features an all-new head sculpt that captures his sardonic smile and infamous visage. He wears his distinctive striped sweater as seen in the original A Nightmare On Elm Street film and comes complete with his trademark razor glove and removable hat.

The Living Dead Dolls Presents A Nightmare On Elm Street Talking Freddy Krueger stands a full 10inches tall and has 5 points of articulation. To hear classic lines direct from the Nightmare On Elm Street series, simply press the discreetly hidden button on his back .

He is packaged in a die-cut window box perfect for display and watching you sleep!
These dolls creep me the hell out, but they are uber-popular. Talking ones will haunt my dreams, which is fitting for this one. Freddy will say the following phrases:
"Come to Freddy!"
"You're all my children now!"
"You shouldn't have buried me. I'm not dead!"
"Kids, always a disappointment."
"You think you was going to get away from me?"
"HA HA HA HA HA!"
"Every town has an Elm Street."
They should have gone with "Welcome to primetime, b!@#%," but I'm pretty sure they couldn't. These dolls are also always well made and a great bargain at the price.
You can preorder this one now.