Kong Gets a Very Amazing, Very Expensive Statue from Prime 1 Studio
Kong has a ridiculously awesome statue coming from Prime 1 Studios. Shipping next spring/summer, this thing is a massive rendition of a battle between King Kong himself and one of the critters from Kong: Skull Island. The skull crawler looks really gnarly.
There will be two versions of the statue to order, a regular release for (gulp) $999 and a deluxe version with swappable face portraits and a hand holding a boat part that will cost (double gulp) $1199. The deluxe version will be limited to 500 pieces.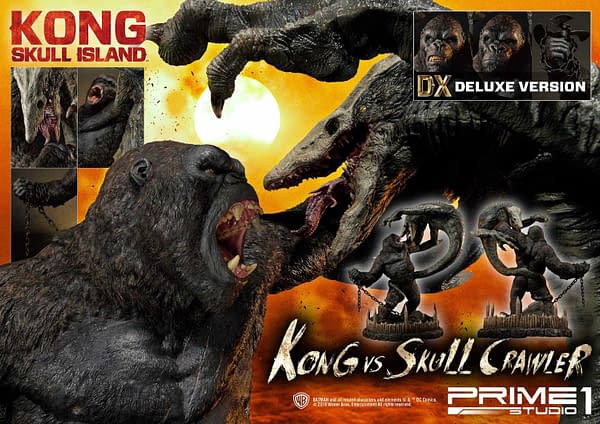 Ultimate Diorama Masterline Kong: Skull Island (Film) Kong vs Skull Crawler

Prime 1 Studio is proud to present UDMKG-01: Kong Vs Skull Crawler from Kong: Skull Island (Film).

Kong: Skull Island is a 2017 film co-produced by Legendary Pictures and Warner Bros. that serves as an origin story. It is the second entry in the Monster Verse, following 2014's Godzilla, and will be followed by 2019's Godzilla: King of the Monsters, before culminating with 2020's Godzilla vs. Kong.

Set in 1973, the film follows a team of scientists and a US Army unit recently withdrawn from the Vietnam War who travel to an uncharted island in the Pacific and encounter terrifying creatures and the mighty King Kong. The diorama represents one of the most epic fighting scenes of the film with the Skull Crawler clinging on Kong.

Specifications:
– Size approximately 31.5 inches tall [(H)80.1cm (W)66.9cm (D)46.2cm]
– Retail Price: $999 US
– Edition Size: TBA
– Estimate shipment: Q2 2019
– Prototype samples shown
– Product details could be subjected to change without further notice

——————————————

Ultimate Diorama Masterline Kong: Skull Island (Film) Kong vs Skull Crawler Deluxe Version

Prime 1 Studio is proud to present UDMKG-01DX: Kong Vs Skull Crawler Deluxe Version from Kong: Skull Island (Film).

Kong: Skull Island is a 2017 film co-produced by Legendary Pictures and Warner Bros. that serves as an origin story. It is the second entry in the Monster Verse, following 2014's Godzilla, and will be followed by 2019's Godzilla: King of the Monsters, before culminating with 2020's Godzilla vs. Kong.

Set in 1973, the film follows a team of scientists and a US Army unit recently withdrawn from the Vietnam War who travel to an uncharted island in the Pacific and encounter terrifying creatures and the mighty King Kong. The diorama represents one of the most epic fighting scenes of the film with the Skull Crawler clinging on Kong.

Statue features:
– Size approximately 31.5 inches tall [(H)80.1cm (W)66.9cm (D)46.2cm]
– Two (2) additional alternate portrait
– One (1) interchangeable right-hand holding a boat helix

Retail Price: $1199 US

Edition Size: 500

Estimate shipment: Q2 2019