For those of you curious as to what kind of games you'll be getting in April from Twitch Prime, the company has revealed the five games you'll be able to pick up this month for free, just by having a membership. Those five games will be: Tales from the Borderlands, DubWars, SteamWorld Dig 2, Kingsway, and Tokyo 42.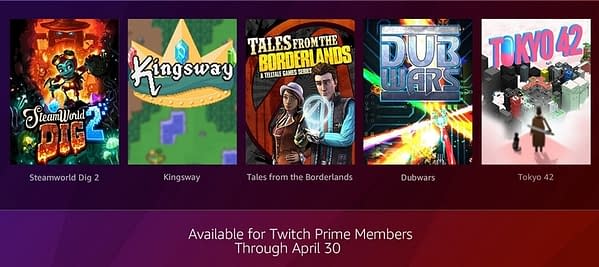 This list isn't all that shocking considering that the company actually revealed all their free games for the next two months a few weeks ago, but it's cool to see that nothing changed over the last month and that all of the companies were still on board with giving away their content to subscribers. So far the response to the free games has been nothing but positive from the users who are currently signed up, primarily because it was an unexpected bonus added to Prime accounts when the company was simply selling them as a way to watch programming and donate money to your favorite streamers with few adds and expanded access in chat with other features to follow.
We most likely won't see what the next line of free games will be until we near the end of the month, same as Xbox and PS4 do with their free game systems.
Enjoyed this article? Share it!