Mac users who play Magic, you can finally rejoice, for the wait is over – Magic: The Gathering Arena is coming to your Apple computers! The digital interface for Wizards of the Coast's famous trading card game will launch on Macs on June 25th, 2020 on the Epic Games Store. Coinciding with Core 2021, Arena's launch to Macs everywhere will allow PC users to seamlessly migrate across platforms if they so choose. Full functionality on Macs is expected, including card collections, friends lists, and other such key features.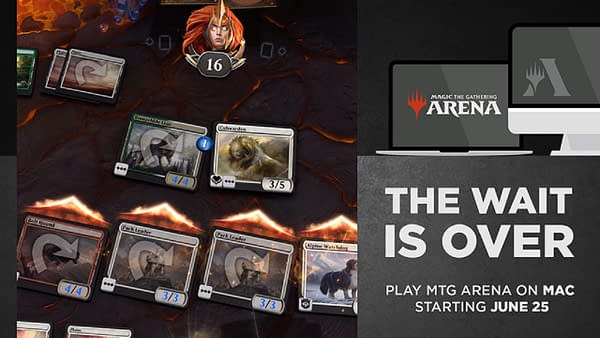 According to the press release by Wizards of the Coast:
Magic: The Gathering fans have a new platform to play the digital version of the popular tabletop trading card game! Magic: The Gathering Arena is coming to Mac as a free-to-play download, exclusively through the Epic Games Store on June 25. Currently available on PC, players compete by strategically deploying a vast array of land, spell and creature cards to defeat their opponents. […]

The launch of the Mac client will coincide with the digital release of Core Set 2021, bringing the newest Magic: The Gathering set to MTG Arena. With a mix of all-new card designs and powerful returning cards, Core Set 2021 was developed to have something for every Magic player, no matter how they choose to play the game. Available at launch, Mac players will have the opportunity to experience all game modes for MTG Arena, including M21 Player Draft and new play events that help celebrate the release of the new Core Set.
No definitive word yet on when a mobile version will be made available, but Wizards had originally projected that availability to be late this year or early next year. Due to delays from the COVID-19 pandemic that projection could be different now, however. What do you think about Magic: The Gathering Arena coming to Macs? For those of you who play the PC version, do you have any advice for the Mac users who are about to join your ranks? Let them know in the comments below!
Enjoyed this article? Share it!