Magic: The Gathering Ikoria Limited Top Five Picks For Multicolor
Hello, Magic: The Gathering players! This is the sixth and final installment of our review of the top cards in Ikoria: Lair of Behemoths Limited. Before this, we have gone through all five colors in Magic and done so in a top ten capacity. However, this time we are only able to do a top five.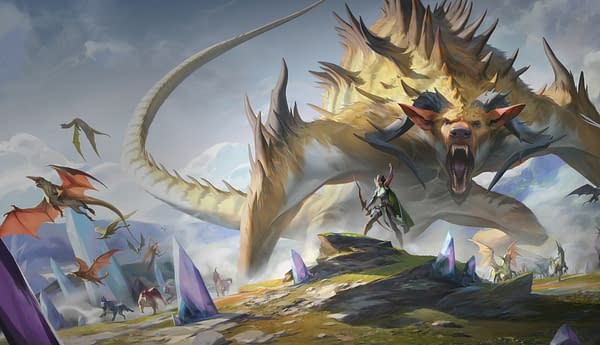 This is because, despite all of the cycles in the set, there aren't quite enough cards to do a top ten ranking for multicolor, artifacts, or lands! There are exactly zero common multicolor cards and a few common lackluster artifacts in this set to work with (yes, yes we know about Springjaw Trap as a piece of removal in the format), as well as no lands to shout home about outside of rare. However, with that in mind, before we move on to our top five, let's explore an Honorable Mention.
Honorable Mention: Sprite Dragon
I have seen Sprite Dragon used to a relatively-useful effect in games of Ikoria Limited. The card is a quick, efficient, and evasive beater that can get monstrously large if you can properly build around it. The card reminds us a bit of Stormchaser Mage, a card that, while not strictly better, saw some play in Battle For Zendikar Constructed in its early days. It's not in our top five not because it's not worth it – but because there are so many cards that edge out that little bit more power, Sprite Dragon is our Honorable Mention.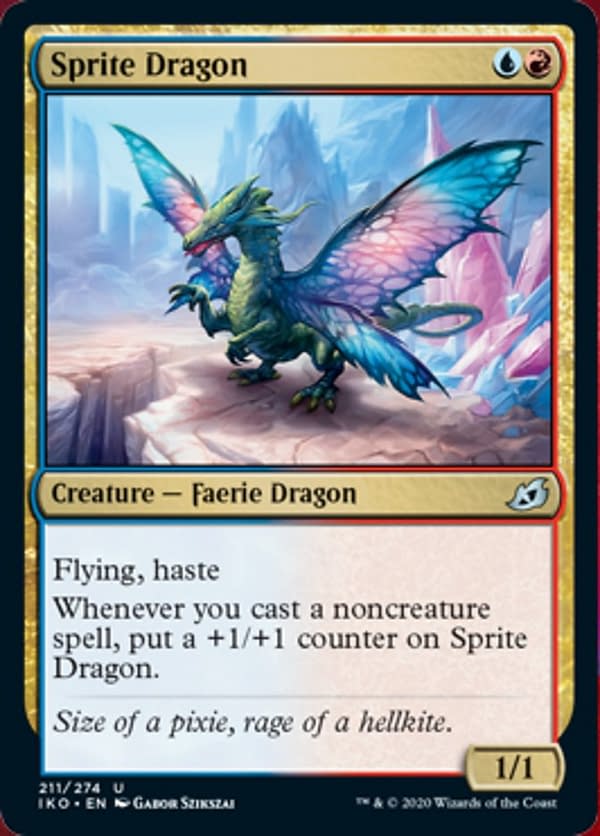 #5. Cunning Nightbonder
Cunning Nightbonder is everything that a flash "Lord" should be, save for legendary (Commander players would do much for a card like this as a legendary creature!). As it were, it makes cards with flash cheaper and uncounterable, which is very strong. The only way we could see this getting more presence is if it had an ability that affected flash creatures in a more aggressive way, for example with a power and toughness boost. The main reason it isn't quite as high on the list, compared to the other two "Bonder" creatures on this list, is that while flash is more common in this set than in others, there isn't quite enough to make this one shine over, for instance, menace or flying.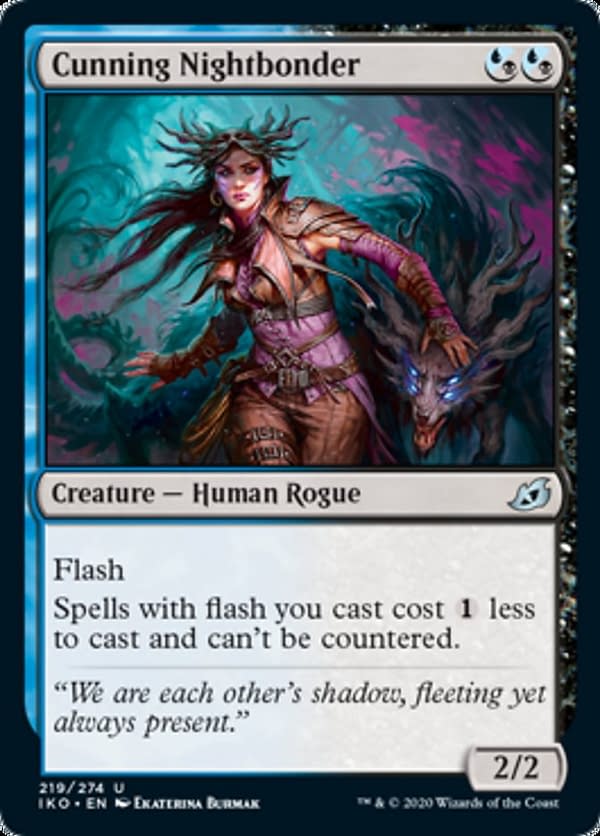 #4. Sonorous Howlbonder
Like Cunning Nightbonder, Sonorous Howlbonder has an ability-based "Lord" effect, but unlike the Nightbonder, Sonorous Howlbonder's noted ability is both more offensively-minded and more prevalent in Ikoria: Lair of Behemoths. Menace is strong, especially in a Limited format where people are more likely to go tall than go wide, and as a result this card shines in making your creatures even more unlikely to be blocked. For what that's worth, there are enough creatures in the Limited environment with menace (or the option to gain menace) that you're in a good spot if you pick this card early.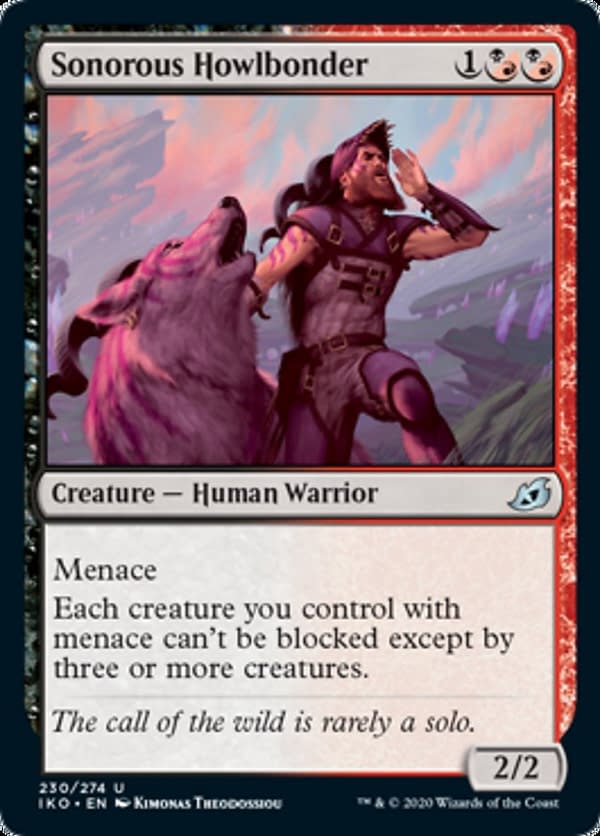 #3. Boneyard Lurker
The only creature on this list with Mutate (a shocker, to be sure), Boneyard Lurker does a very good impression of Golgari Findbroker, a decent card for some older and Eternal Constructed decks. Only being able to recur permanent spells isn't quite on par with Eternal Witness, but this card definitely can be, given that its own recursion is repeatable. What's more, it can also bring creatures with Mutate back to the hand, meaning that going tall is less of a liability with this card around.
#2. Zenith Flare
This pick only being in second place may be my most controversial choice yet. The cycling archetype deck has been an absolute powerhouse in both Limited and Constructed, thanks in no small part to Zenith Flare. This burn spell can do a serious number on most anything that could stand against it, late enough in the game, and being that it's in a cycling deck it's not impossible to be able to dig deep for it in your deck. The only issue this card may have is not having cycling itself.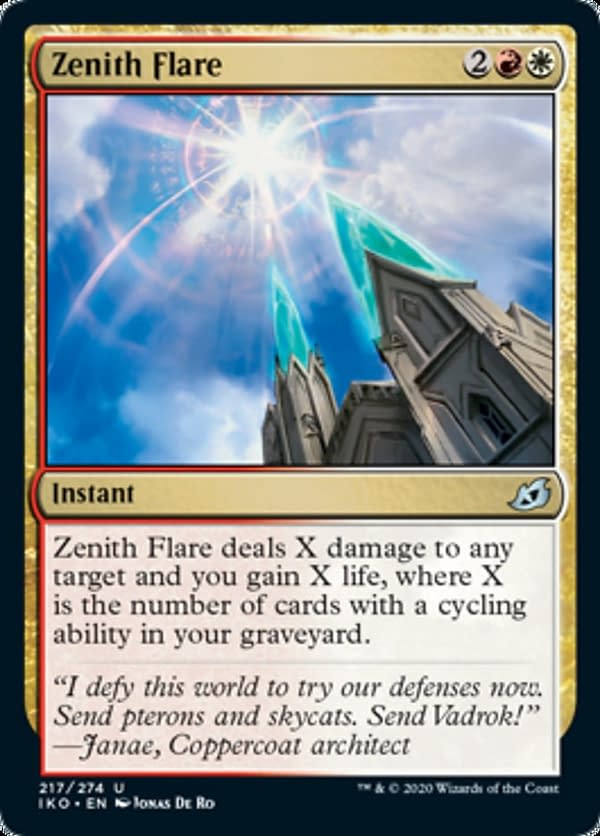 #1. Jubilant Skybonder
One look at this card will tell you exactly why this third "Bonder" is worthy of the number one spot on this list. Flying is a common ability and, in limited, blue/white flying decks are generally seen as much more powerful than other archetypes. Jubilant Skybonder makes all of those evasive flying creatures even more evasive by making opposing spells that target them cost even more to cast! That's some fantastic support in a deck that is likely to have a fair amount of countermagic in it as well (looking at you here, Neutralize!)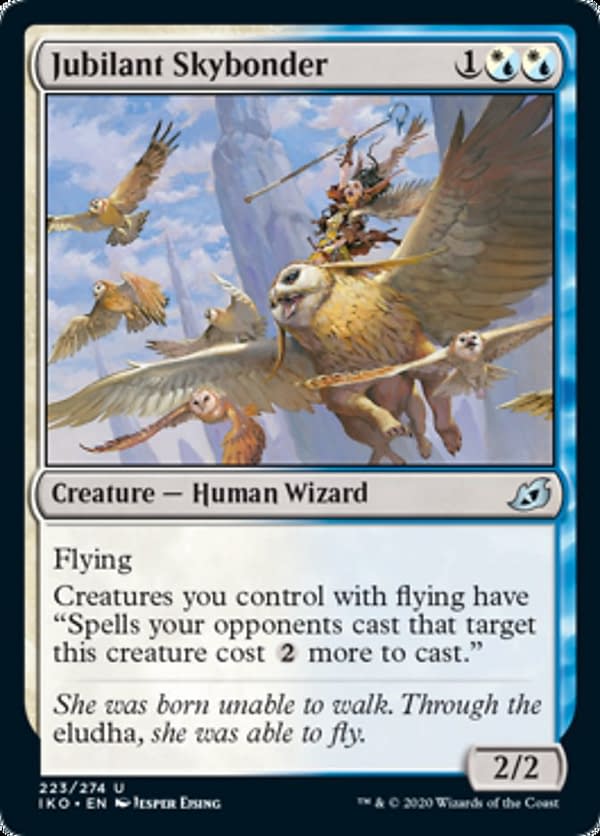 Wrapping Up Limited
Are our choices for our top five multicolor cards in Ikoria Limited right? Do you have any better suggestions at this time? Let us know what you think of our lists in the comments!