Mario Tennis Aces Gets A Free June Content Update
Mario Tennis Aces players are getting a free update this month in the form of the June Online Tournament patch. It's now available in-game, and it's bringing a number of free goodies to tennis fanatics that can be earned by way of Participation Points.
This update includes bonuses like colored Spike Headbands, which will run you 250 Participation Points for Blue, 500 for Pink, and 750 for Yellow. You can also get a Bowser Tennis Outfit for 1,000 Participation Points. It's a good time to go change up your outfits and jump back into the game if you've been off exploring other titles as of late – the Switch has been knocking it out of the park with new games, after all.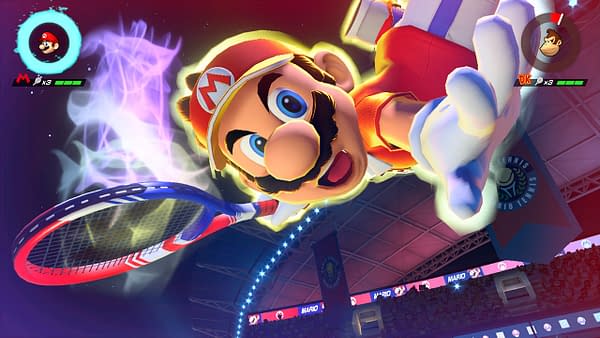 There's also a new Co-Op Challenge to play through called Boo Hunt. It's back with the Goal-Clear Bonus of Boo Visors, which you can spend 1,5000 for Light Blue, 5,000 for Green, and 10,000 for Purple. Just make sure you're saving up those points if you want to participate because some of these colors are pretty pricey.
Ever since Mario Tennis Aces launched, the game has been adding a swath of new characters and other content, with characters like Diddy Kong, Koopa Paratroopa, and Birdo added in one of the first waves. It's also had several free weeks for players to test out the game and lengthy demo periods. There's also been a few tournaments to test your skills against others online.
As far as tennis games go, this is one of the best, even by Mario standards. If you're looking for an entertaining sports title that still has plenty of that fun arcade flair, this is an excellent choice. It looks like Nintendo plans on continuing to support it for the near future, too, so you're not jumping on too late. Just let us know if you play – we might want to jump on and clean house.