New "DOOM Eternal" Gameplay Revealed During QuakeCon 2019
QuakeCon 2019 promised to be the "Year Of DOOM", and they're certainly living up to the hype with new gameplay footage of DOOM Eternal at the event. Specifically, they showed off more footage of the upcoming multiplayer they'll be adding to the game called Battlemode, where one really amazing DOOM Soldier will take on two players where one is a massive baddie and the other is a grunt-type character.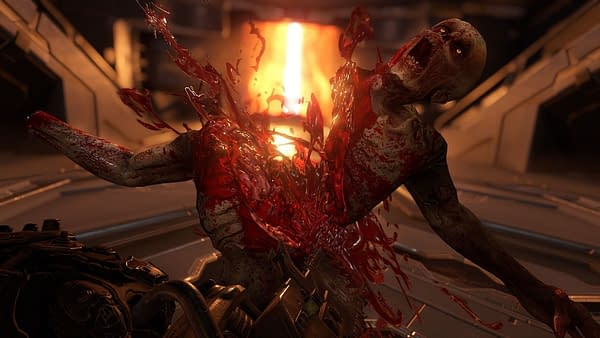 The development team at id Software confirmed that there will be four playable demons to choose from and they will be revealed closer to launch. What's more, any additions they make to the multiplayer system will be free to all owners of DOOM Eternal. Here are the details for the video presentation you're about to watch from Bethesda Softworks at QuakeCon 2019.
Following the Keynote, an all-star panel of Bethesda developers takes a look back at how DOOM's launch 25 years ago impacted the video game industry and the games that followed. Featuring leads from id Software, MachineGames, Bethesda Game Studios, and Bethesda Softworks, this roundtable discussion will cover games old and new, and trends in shooters and beyond.Panelists include Hugo Martin (Creative Director, id Software), Jerk Gustafsson (Executive Producer, MachineGames), Todd Vaughn (Senior Vice President of Development, Bethesda Softworks), Tom Mustain (Co-Studio Director, Bethesda Game Studios), and Kevin Cloud (Senior Producer, id Software). Hosted by Jason Leavey and Matt Grandstaff.