If you ever needed a reason to visit a 7-Eleven for some merch, Pokémon is giving you one as they're stocking the shelves with Detective Pikachu items. since April 15th, the chain has slowly been adding several of the items below into their stores for you to purchase, some of which are tied to contests that you can enter to win. If you're looking to grab any of these items, most of them will be around until May 21st or until they run out of supplies. Brings a whole new meaning to "gotta catch them all'.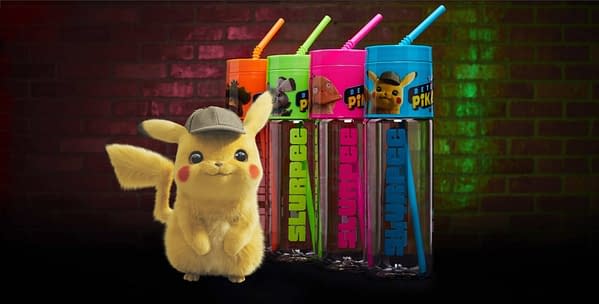 $1 small coffee, $1 medium cold brew and $1 medium Slurpee from April 15th – May 21st.
Collectible items like the Pokémon Detective Pikachu Collectible Coffee Mug, LTO Slurpee Cup and Pokémon Slurpee Straw.
The Hi-Hat Mocha drink – Pikachu's coffee drink of choice made from a blend of chocolate and coffee with steamed milk.
Mystery Slurpee Sweepstakes which gives Slurpee-lovers an opportunity to win a year of FREE Slurpee drinks by posting a photo or video of themselves guessing the three flavors in the Mystery Slurpee drink, tagging #MysterySlurpee and #Sweepstakes. (Promotion runs from April 15th – May 21st)
Collectible fanfare including trading cards, plush Pokémon characters, Pokémon Clip and Carry Pokéball belt and Pokéballs.
Pikachu fan wearables (available in-store or on Amazon) such as a Hi-Hat Café Hat and Pokémon Detective Pikachu Wallet.
A design-your-own Pikachu cookie kit equipped with icing, cookies, and sprinkles.
Enjoyed this article? Share it!