PUBG Mobile Partners With Designer Julien Fournié
This morning, PUBG Mobile announced they had formed a new partnership with fashion designer Julien Fournié and his eponymous Haute Couture fashion house. The partnership will have the two collaborating on a new fashion and gaming crossover, which will also mark the first time they've partnered with a Haute Couture fashion brand. The news was officially unveiled during Paris Fashion Week Haute Couture, with more details on the way in the coming months. Meanwhile, we have what details were revealed below from Krafton, as well as a quote from Fournié.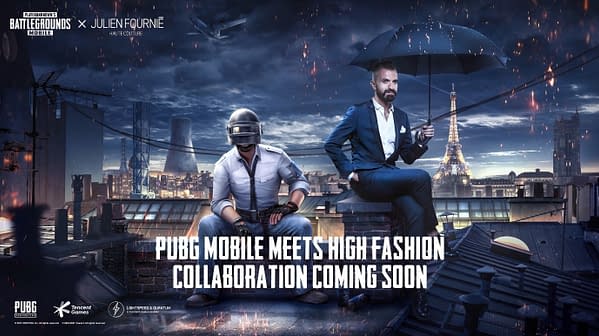 Julien Fournié is a French designer known for his work in Haute Couture, a fashion discipline which focuses on exclusivity, authenticity, creativity, innovation and traditional craftsmanship. Eschewing the modern trends of ready-to-wear fast fashion, Julien Fournié and Haute Couture create bespoke, unique pieces which embrace the extraordinary beauty of French fashion. A sign of ultimate luxury, Haute Couture is a term protected by law in France. Only 15 brands can legally bear this label, of which Julien Fournié is one. This innovative creativity makes Julien Fournié a perfect match for PUBG Mobile, which through its focus on self-expression and number of successful IP partnerships gives its players the ability to craft their own unique identities.

During Paris Fashion Week on July 6th, Julien Fournie revealed his Fall/Winter 2021/2022 collection through the online film "FIRST SQUAD". Merging his lifelong admiration for superheroes and new technologies, much of the collection is inspired by the aesthetics of video games. At the end of "FIRST SQUAD", Julien Fournié announced his collaboration with PUBG Mobile by introducing a teaser of the two iconic brands shown side by side. PUBG Mobile, a game focused on player self-expression, offered key inspiration for Julien Fournié's cutting-edge blend of fashion and gaming.
"Collaborating with PUBG Mobile is a dream come true for me," declares Julien Fournié. "Not only, because it ranks among the top mobile games across the planet. But most important for me because it enables millions of players to interact from all five continents and explore another dimension together, in order to face challenges and improve. This is what Haute Couture has in common with PUBG Mobile: encouraging you to explore dreams and to learn from them to Find Your Legend. I cannot wait until the gamers will discover what we have in mind for them!"