Samsung Unveils Their 2019 8K and 4K QLED TV Line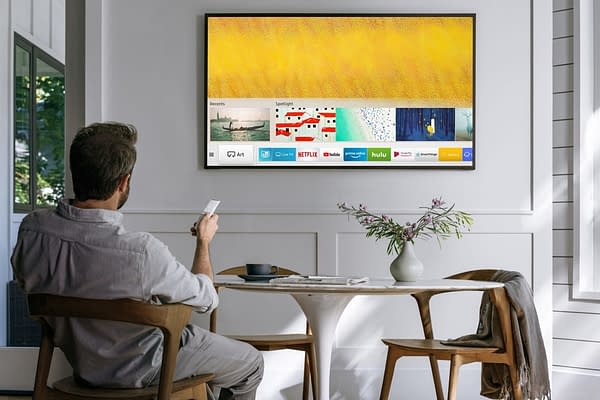 Samsung has just unveiled their 2019 lineup of QLED TVs, which now includes their popular The Frame model.
The 2019 model of The Frame will blend pristine QLED picture quality with over 1,000 works of art so your TV can be functional even when not in use. The Frame will still include the various bezel and customization options, but will now feature QLED technology.
Additionally, Samsung eill be offering a new 49-inch model of The Frame for a more versatile lineup.
"The Frame isn't just a beautiful TV. It's a beautiful piece of art that blends in to any room," said Andrew Sivori, Vice President, TV Product Marketing, Samsung Electronics America. "We are excited to bring stellar QLED picture quality to The Frame in order to give consumers a premium experience whether they are using it to enjoy entertainment or enhance the aesthetic of their home."
We recently got to test out a 2018 4K QLED model from Samsung, which was far too gorgeous a monitor for most games. Not that we're really going to complain about that. But we can guarantee its gorgeous picture quality, variable refresh rate, and insane number of HDMI ports make it a solid investment.
You can check out the full 2019 lineup in the "Comming Attractions" video below.
As for pricing, here's the list of what one of these fancy QLEDs will set you back:
QLED 8K TVs
Q900:
65": $4,999.99
75": $6,999.99
82": $9,999.99
85": $14,999.99
QLED 4K TVs
Q90:
65": $3,499.99
75": $4,999.99
82": $6,499.99
Q80:
55": $1,999.99
65": $2,799.99
75": $3,999.99
Q70:
49": $1,249.99
55": $1,499.99
65": $2,199.99
75": $3,299.99
82": $4,499.99
Q60:
43": $799.99
49": $999.99
55": $1,199.99
65": $1,799.99
75": $2,999.99
82": $3,799.99
The Frame (2019):
43": $1,299.99
49": $1,699.99
55": $1,999.99
65": $2,799.99