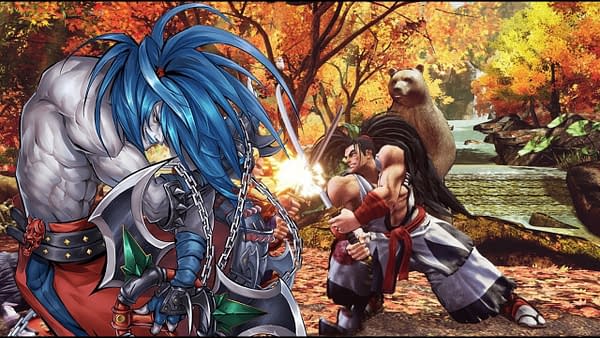 Samurai Shodown is adding another character to its roster by way of DLC.
As of October 15, players can jump into the shoes of Basara. Voiced by Yuuji Murai, Basara is also known as Basara the Executioner. First seen in Samurai Shodown III, he's a yurei (essentially the Japanese folklore version of a ghost) born of the hatred he felt before he died.
Basara lived with his lover Kagaribi until demonic swordsman Zankuro took everything away from him. As such, Basara blames the demon for Kagaribi's death. Oddly enough, we find out in Samurai Shodown V that Basara actually took her life, so go figure on that.
His fighting abilities manifest in the form of ghostlike abilities, so playing as Basara should be an interesting experience. If that doesn't sway you, perhaps the idea that he seems like he might be slightly psychotic might. Basara uses shuriken, demonic powers, and unleashing a barrage of powerful hits upon enemies. You could think of him as a "ghost ninja," or something like that.
You can purchase Basara on his own for $5.99, or as part of the Season Pass with additional characters for $19.99. As far as Samurai Shodown, the game's available now on PlayStation 4 and Xbox One now. Both Nintendo Switch and PC versions are coming in the future. The Switch version will debut in Japan on December 12. There's no planned date for release in the west, just yet.
Enjoyed this article? Share it!