Spyro The Dragon Gets a Funko Pop! Plus: E3 Exclusives!
Spyro the Dragon is coming soon to Funko. A Pop version of everyone's favorite video game dragon will be hitting stores in September. This means that with this release and last years Crash Bandicoot Pops we are one step closer to having our video game icons all in Pop form (ball is your your court Nintendo).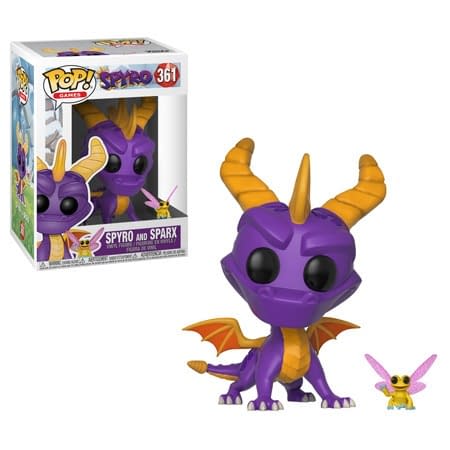 The original roast master, Spyro from the Spyro™ video game
series is back and bringing the heat as the latest
addition to the Funko Pop! family.
The beloved purple dragon comes complete
with full Pop! styling with his dragonfly pal Sparx.

Add this Pop! and Buddy to your collection this
summer, just in time to celebrate Spyro's 20th anniversary.
Adorable. The Sparx is awesome as well, that is a great call packing that in here.
On top of Spyro, they have also announced what their exclusives will be at E3. All E3 Funko Pops are at the show in partnership with Gamestop, meaning most of these will all be shared exclusives with Gamestop stores.
Exclusives will include a Master Chief with Active Cammo, an 8-Bit Mega Man Black Hole Bomb Pop, a Super Shadow Sonic the Hedgehog Pop, and two different Cuphead Pops: gold King Dice and a glow-in-the-dark Legendary Chalice. The Super Shadow and Chalice Pops will be limited to 1500. The other three will be shared exclusives will Gamestop stores.
They will also have four Pop Tees available. All of them will be in special packaging, with the Cuphead one will be revealed on June 11 (wonder why that is…). Out of the other three, the Kingdom Hearts one is going to prove pretty popular if I had to guess. Although the Deadpool taco truck will also be a fun one to track down. Both of those will be shared with Gamestop stores. The other two are exclusive to E3.
Look for all of those in June and the Spyro in stores in September.