Square Enix Adds Final Fantasy XIV Playlists To Streaming Services
Square Enix just debuted two official Final Fantasy XIV playlists across streaming services like Spotify and Apple Music. If you've been jonesing for some good ol' adventuring music, these tracks are perfect for that.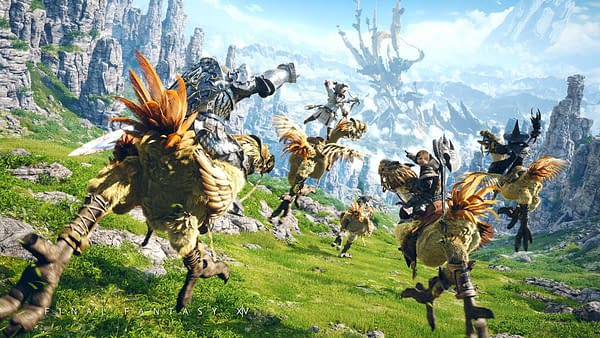 The playlists include Epic Encounters: Final Fantasy XIV and Soothing Sanctuary: Final Fantasy XIV. Epic Encounters is a lot simpler to get hyped with, and as such has music that matches that kind of blood-pumping spirit you'd expect from an adventure. Soothing Sanctuary, on the other hand, is a much more chilled out endeavor.
The Epic Encounters playlist includes the following tracks:
Under the Weight
Defender of the Realm
Calamity Unbound
Through the Maelstrom
Ominous Prognisticks
Limitless Blue
Unbreakable
Metal
Revenge Twofold
Starved
Band: Metal – Brute Justice Mode
Revenge of the Horde
Exponential Entropy
Equilibrium
Triumph
Liberty or Death
The Worm's Tail
Wayward Daughter
Here's what you can expect from Soothing Sanctuary: Final Fantasy XIV:
To the Sun
On Westerly Winds
The Waking Sands
Where the Heart Is
Out of the Labyrinth
Eternal Wind
Nobility Sleeps
Borderless
Misconception
Piano: Ink Long Dry
Paradise Found
Jewel
Freedom
Impact
Crimson Sunrise
Drowning in the Horizon
Parting Ways
Song of Salt and Suffering
Both playlists are a great way to sit back and immerse yourself in the world of Final Fantasy, especially given the fact that the North American Fan Festival 2020 has officially been canceled due to COVID-19. In these difficult times, it's totally fine to spend some time lounging around and getting lost in your favorite games and music if you need some time to start feeling like "yourself" again. Aside from feeling nostalgic about the game, these playlists are great for putting on and getting things done, too. In a time where being productive can be more frustrating than ever, good music is a great reprieve.