Take A Gander at Big Hero 6's San Fransokyo in Kingdom Hearts III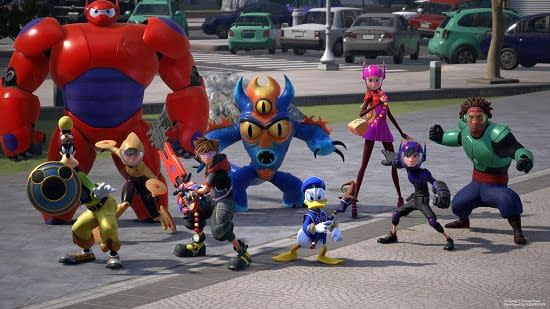 Square Enix has revealed official gameplay for the Big Hero 6 level of Kingdom Hearts III, which takes players to the futuristic city of San Fransokyo. The cast of Big Hero 6 that will join Sora and his friends includes Hiro Hamada, Honey Lemon, Go Go Tomago, Wasabi No-Ginger, Fred, and Baymax.
However, the Big Hero 6 gameplay reveal is far from the only thing included in this trailer. We also get to take another look at the Frozen, Monsters Inc., Tangled, and Pirates of the Caribbean worlds. The trailer also reveals the final (thirteenth) Xehanort possession, which might surprise you. Or it might not, because really, those guys can possess pretty much anyone. We also get to see a first glimpse at a certain fan-favorite character's return complete with spooky robes and original keyblades. Oh, and we get some hints as to the game's storyline, but really, considering this is Kingdom Hearts, that story is going to be far more convoluted than this trailer makes it seem.
And if that wasn't quite enough for you, we get to see how Sora can use his Gummiphone to take selfies with his friends along the way. Because every game needs a photo mode and Kingdom Hearts III is no exception. The Tokyo Game Show trailer released today is subtitled in English, but the audio is in Japanese outside of Utada Hiraku's fantastic theme. You can check it out below.
Additionally, the publisher revealed the official box art for Kingdom Hearts III. The box will look pretty familiar, considering it features original artwork drawn by series director Tetsuya Nomura. It showcases a variety of characters from the Kingdom Hearts series, as well as a few Disney favorites.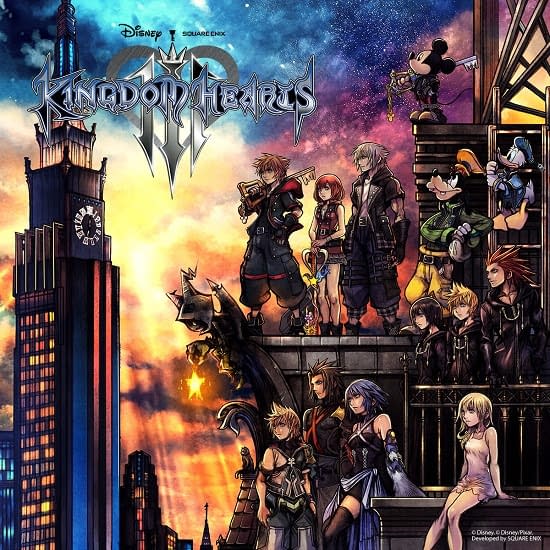 Kingdom Hearts III is slated to release on PS4 and Xbox One on January 25, 2019.