Tetsuya Nomura Debutes FFVII Remake and KH3 Screenshots
Game director Tetsuya Nomura shared screenshots of his two most anticipated projects at Monico Anime Game International Conferences: Square Enix's Kingdom Hearts 3, and the remake of Final Fantasy VII.
The Kingdom Hearts 3 screenshot shows protagonist Sora taking down some fearsome looking Heartless in Olympus. The game's art direction hasn't changed much since the original, deapite the massive time lapse between the first game and the third full title in the franchise – disregarding all the prequels and sequels to the prequel.
Sadly, there is still no date for the much-awaited release of KH3. At least we can confirm that the game is at least in production.
The first FFVII shot shows Cloud hiding behind boxes while sneaking around what is likely a Shinra Electric site. The active time bar, health bar, and menu hint that the game will feature combat in the same style as travel and exploration. No breaking into battle sequences for the remake, which is a nice touch. The active time bar should help soothe the hurt feelings the purist fans have for the change.
According to Gematsu, Nomura confirmed that the battle system will include a seamless transition.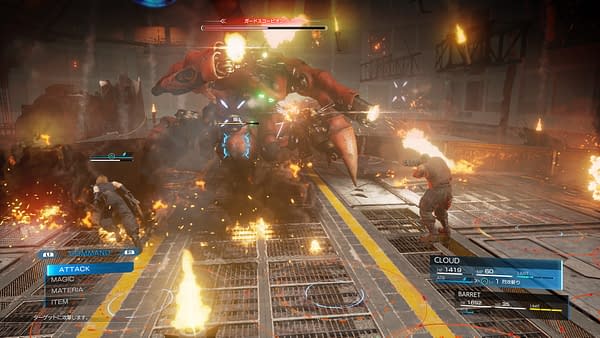 The next screen shows a bit of the game in action, though it would be nice if Cloud wasn't just running around over there. Still, the game looks awesome. Its an interesting mix of the UI used in FFXV while still having enough throwbacks to remind us that this is just an update of a much beloved title in Square's long running franchise.
Considering the fact that December 28th is the 30th anniversary of the Final Fantasy franchise, it's likely we'll see more of the VII remake throughout the year. And maybe we'll get a release date in honor of that anniversary, considering Square's already started hyping it. But, no promises were made by Nomura.