The New "Borderlands 2" DLC Throws More Shade at David Eddings
If you'd like to know just how petty Gearbox Software and their CEO can be, you need look no further than the latest Borderlands 2 DLC. If you're not already familiar with the situation, voice actor David Eddings was asked if he would be reprising the role of Claptrap in Borderlands 3 online, to which he said no and talked about how he felt h deserved to be paid better. To which the CEO of Gearbox, Randy Pitchford, decided that was a good time to marginalize the actor and we've had a Twitter war ever since. That's the short version, you care to read more and catch up, you can read our last story about on Pitchford here. But now there's a new wrinkle in the story that's got the community up in arms.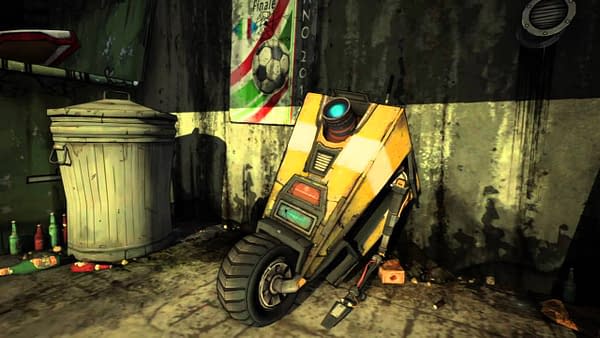 Giant Bomb is talking about the latest DLC pack to be added to Borderlands 2, which is supposed to be a connecting point between the last game and the new one on the way. The clip below has been on fire all morning as there's a period in the game where Claptrap (voiced now by Jim Foronda) is trying to collect cryptocurrency illegally, and stabs people in the back along the way, followed by some dialogue which feels like Pitchford wrote himself for the role. We'll let you listen to the clip below, along with Eddings' response to it on Twitter.
We'll wait to see what Pitchford has to say about this latest storyline and how they came around to writing it, but it seems as if the company just poured more gasoline on the fire.