Toys R Us Founder Charles Lazarus Has Passed Away
Toys R Us founder and World War II veteran Charles Lazarus has passed away at age 94. This comes a week after the chain of toy stores he founded announced that it will be closing all stores in the US and other parts of the world. He stepped down as CEO in 1994.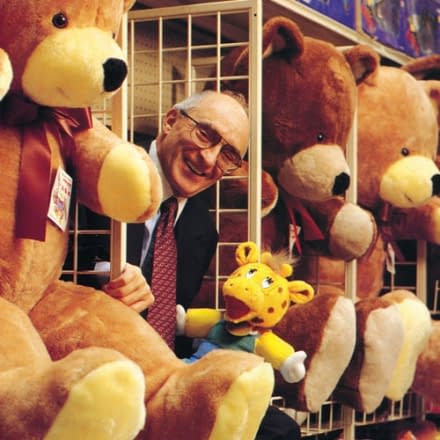 Lazarus started the company in 1948, thinking that post-war people would need a place to stock up on baby supplies and merchandise. The first all-toys store was opened in 1957, and named Toys R Us, with the "R" being backwards to resemble the way a young child may write it.
"He was the father of the toy business," said Michael Goldstein, who succeed him as CEO. "He knew the toys and loved the toys and loved the kids who would shop in the stores. His face lit up when he watched kids playing with toys."
Toys R Us became a public company in 1978 and became an $11 billion business by the the 1990's. As we all now know, the company is now going under as major debt, big box retailers, and online shopping combined to take the business under. The company released a statement confirming that Lazarus had passed:
"There have been many sad moments for Toys "R" Us in recent weeks, and none more heartbreaking than today's news about the passing of our beloved founder. He visited us in New Jersey just last year, and we will forever be grateful for his positive energy, passion for the customer and love for children everywhere. Our thoughts and prayers are with Charles' family and loved ones."