After one heck of a long week since the novel's release, Wizards of the Coast has finally issued a statement apologizing for the seeming erasure of character Chandra Nalaar's bisexuality in Greg Weisman's book "War of the Spark: Forsaken". This apology arises amid a plethora of tweets and complaints by the LGBTQ+ players of Magic: The Gathering, who were absolutely outraged that a contracted writer would write out such an important part of a pivotal character's persona in as dismissive of a way as he did.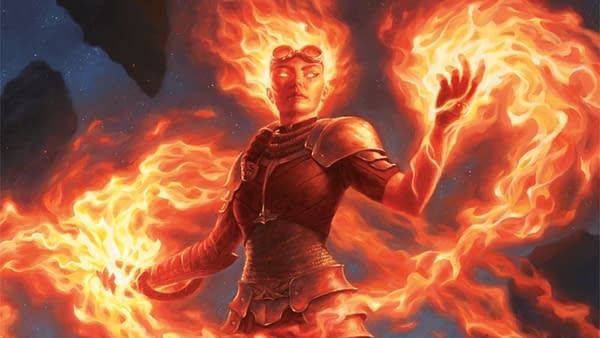 However briefly, the Wizards Creative Team and Del Rey Publishing, the entity who published the panned book, had this to say on the matter:
Over the past week, we have seen and heard strong reactions from fans about how we handled the resolution of the Nissa-Chandra romantic relationship in the recent Forsaken novel, and we apologize. We didn't live up to the expectations we created for Chandra and what she means to our fans.

Chandra will love and be involved with many characters as her story unfolds—regardless of gender. She will explore her relationships with fire and passion as she adventures across the multiverse. She is the character you've come to know and see yourself, your friends, and your family in over the past decade.

A value we hold dear is that our characters belong as much to our fans as they do to those of us who help create and shepherd them. Moving forward, we will take more care to ensure they stay true to their ideals, their identity, and the history we have carefully curated—none more so than one as beloved as Chandra Nalaar.
While this appears a sincere apology, it is, some might suggest, more than a little choppy. The Magic community on Twitter had a lot of things to say about this statement:
Is…
Is this it?
After a week?
Seriously?

— Ricardo Penteado (@svstrauser) November 22, 2019
Acknowledging the problem is a good step one. But keeping shit vague and not acknowledging the problems that led to the decision to straight-wash Chandra is not that promising. I look forward to more, good representation in the future. But this still leaves a poor taste.

— Avery: Weeb Physicist (@ScienceLookout) November 22, 2019
One of the things I admire about R&D is that they are (sometimes) brutally honest about how they fucked up, perhaps due to @maro254's decade(s) of articles.

I don't think it's too much to ask for Creative to be equally as transparent about mistakes and how they'll fix them.

— April King (@CubeApril) November 22, 2019
But what do you think about this? Do you agree with the Twitter Magic: The Gathering community? Do you think that Wizards of the Coast has done quite enough to quell the flames created by this book? Let us know!
Enjoyed this article? Share it!