As the feud between WWE Hall-of-Famer and former Monday Night Raw announcer Booker T and current Raw announcer and tattoo guy Corey Graves heats up, former WWE announcer and former ECW wrestler Taz has chimed in to say that he believes the beef is real.
Booker T set the feud in motion last week when he claimed on his podcast that Corey Graves cost him his position on Raw, as WWE staff were afraid Booker would beat Graves up for all the trash Graves talked to him in the announce booth. Graves has followed up by taking shots at Booker T, posting a Sun Tzu quote on Twitter referring to the situation and telling Booker's replacement, Jonathan Coachman, on this week's episode of Raw that if he doesn't watch out, he'll be hosting a local radio show (something Booker does) instead of commentating on Monday Night Raw.
But the WWE Universe was left to wonder: what does Taz think about this? Sensing that his opinion was required, Taz took to his own podcast to weigh in, with quotes transcribed by Sportskeeda.
"I don't know what's going on with Corey Graves and Booker," Taz admitted before going on to explain what's going with Corey Graves and Booker. "You know me, people know me, my first instinct is, 'Oh, it's a work' but this is not a work because neither of these guys are going to go wrestle each other. I don't think it's a work, one iota. I read some of the things Booker has said and he's pretty hot."
"There are a lot of things said at the announce desk that you don't take backstage, so who knows?" said Taz, referring to Graves' disrespectful comments toward the ring veteran. "Maybe these two guys had personal issues. It seems like they might have."
"I think both guys and pros and hopefully they work it out offline, maybe they had a phonecall together," said the Human Suplex Machine, who always looked to solve conflicts peacefully during his pro wrestling career. "If they are working everybody and they are going to do business together then that's cool, I'm hooked, I'm in. I don't think that's the case."
Personally, we think there's only one way to settle this totally real feud, and it's in the steel cage at WrestleMania!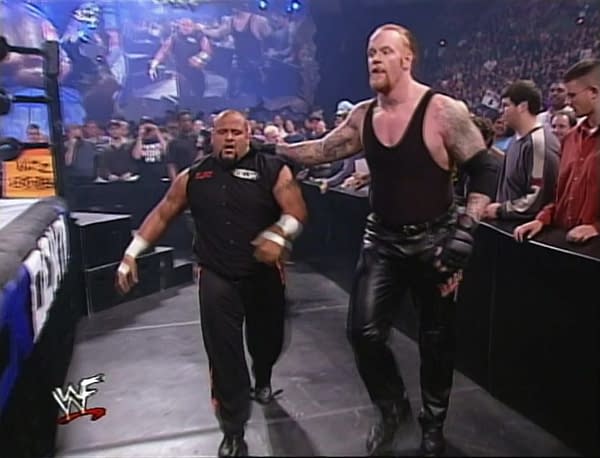 Enjoyed this article? Share it!