'Deadpool 2' PG-13 Version Date Set for China Release
In this latest version of "Having Your Cake and Eating It Too," Deadpool 2 will finally see a release in China.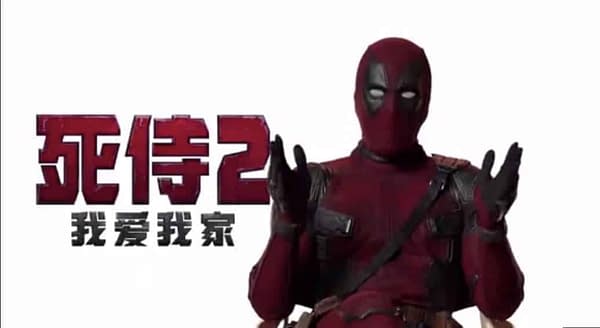 According to Variety, Fox plans to release the PG-13 version of Deadpool 2 to Chinese audiences January 25th, 2019, which was retitled Once Upon a Deadpool for holiday 2018 release in the US.
It was just a matter of time before Fox found a way to introduce the Chinese market to "The Merc With the Mouth" since it doesn't require audiences see the first film to understand the sequel. The Mandarin Chinese title translates to Deadpool 2: I Love My Home. Promotional posters has star Ryan Reynolds covering his mouth with the words, "I just won't tell you."
Once Upon a Deadpool saw a two-week release and grossed around $7 million globally. Adding to the initial theatrical release of the R-rated Deadpool 2, the Marvel film stands at about $741 million globally.
Variety notes other superhero films like Marvel's Venom and DC's Aquaman fared well in the second biggest movie market earning $272 million and $284 million, respectively.
The only problem I see is if Chinese audiences will understand all the meta-humor attached to Deadpool, while much of it was crude and subversive, audiences can at least appreciate the action.
Will DP 2's performance in China shape how the franchise moving forward as the Disney/Fox merger takes place?