Okay, I'm going to do this one backwards. Normally I put the trailer and videos at the bottom of the feed and the text at the top. But because some of you may want to see the trailer for the Flash / Arrow crossover and not have last night spoiled I'll put the video in first. Don't scroll down past the video if you didn't see the end of last night's episode.
[youtube]https://youtu.be/7d8FtLw4MGQ[/youtube]
Now the trailer is pretty cool, we get to see Vandal Savage along with Hawkman and Hawkgirl… but we know all of that was coming. Even Cisco "vibing" Kendra in her full winged outfit wasn't the big surprise from last night.
.
.
.
.
Okay, so the episode was called Gorilla Warfare and involved Grodd kidnapping Caitlin so she could make more creatures like him. Grodd is lonely. To try and get her back, Harrison Wells of Earth 2 puts on a Reverse-Flash costume and tries to trick Grodd into thinking he was "father". It didn't work very well. The end result had them forcing Grodd through a rift into Earth 2 in a place where he could live happily… Gorilla City.
Yes! Freaking Gorilla City!!!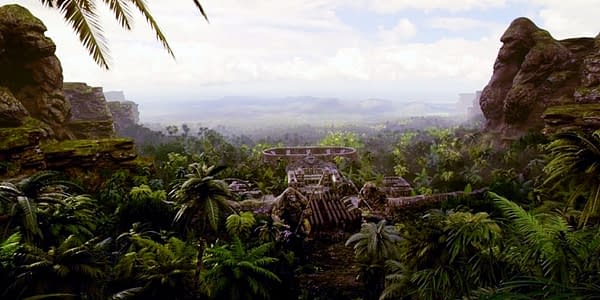 How many "oh my God, they went there!" moments are we going to have this season? Having Grodd at all is impressive for a television series. What they did with King Shark was amazing… but introducing Gorilla City even in concept is huge. Because once they put it out that Gorilla City exists, fans are going to be clamoring for more.
And that brings up the question, how did Wells 2 know of the place and did he purposely send Grodd there to be happy or to lead an army?
After seeing Gorilla City, King Shark, Earth 2, time travel and everything else… is there anything from the comics that this show couldn't pull off?
Enjoyed this article? Share it!