Posted in: Collectibles, Mattel, Movies | Tagged: amelia earhart, barbie, Chloe Kim, frida kahlo, hidden figures, international women's day, Katherine Johsnon, mattel, Mattel Barbie, patty jenkins, Role Models, Sheroes
---
Mattel Releases New Barbie Collections For International Women's Day
Mattel, the makers of Barbie, conducted a survey of 8,000 mothers around the globe and found that 86% are worried about the kind of role models their daughters are exposed to. This caused the company to take a look at their current line of dolls and come up with a pretty great new crop of Barbies for International Women's Day 2018.
"Girls have always been able to play out different roles and careers with Barbie and we are thrilled to shine a light on real life role models to remind them that they can be anything," Senior Vice President and General Manager of Barbie Lisa McKnight said in a news release.
Mattel has now introduced two separate series of Barbies this week; "Inspiring Women," featuring dolls based on historical female figures, and new additions to the "Shero" line named for inspirational contemporary women.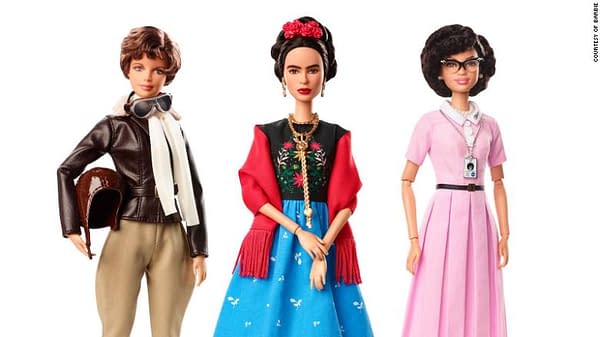 The first three releases in the Inspiring Women collection include Frida Kahlo, Amelia Earhart, and Katherine Johnson.
"The Inspiring Women Series pays tribute to incredible heroines of their time; courageous women who took risks, changed rules, and paved the way for generations of girls to dream bigger than ever before," Mattel spokeswoman Marissa Beck told CNN.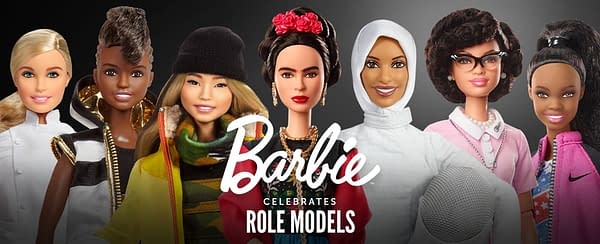 The Sheroes line which started in 2015 gains 14 new Barbies for their Role Models this week, including Wonder Woman director Patty Jenkins, A Wrinkle In Time director Ava DuVernay, Team USA gold medalist snowboarder Chloe Kim and Team USA bronze medalist fencing champion Ibtihaj Muhammad, body positivity activist Ashley Graham, Prima ballerinas Misty Copeland and Yuan Yuan Tan, 2 Michelin star chef Helene Darroze, and more.
Other Shero dolls honor fashion designers, journalists, actresses and entrepreneurs.
---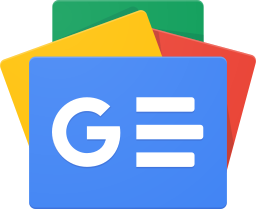 Stay up-to-date and support the site by following Bleeding Cool on Google News today!