Now Superman, Wonder Woman, Green Arrow And Doomsday Join Puzzle & Dragons
We knew that the Batman: Arkham Origins game was crossing over with the popular Candy Crush-meets-Street Fighter Japanese game Puzzles & Dragons, creating a Batman themed dungeon to promote the release of Arkham Origins. But, from an ad in today's DC Comics titles, it appears that the crossbranding may be increasing in November.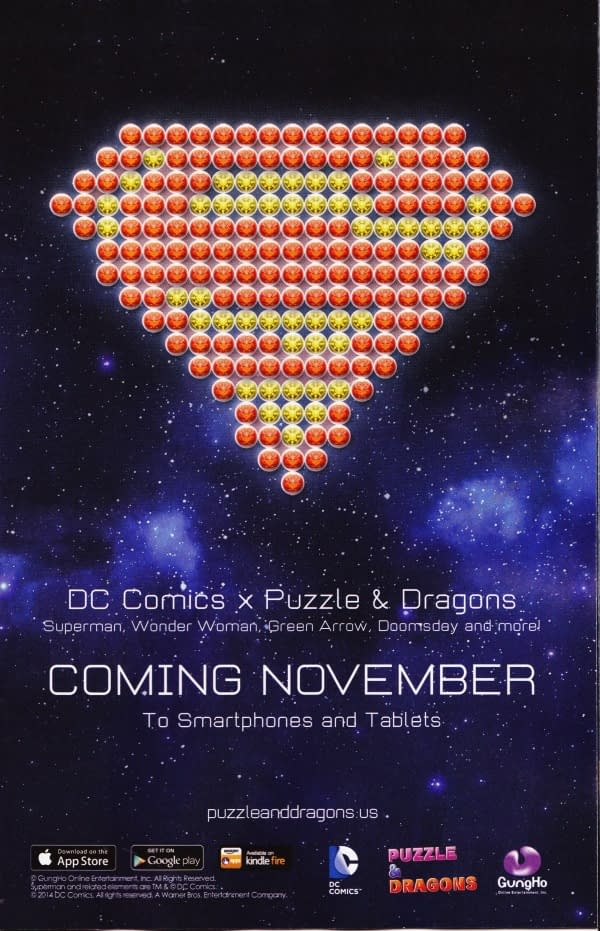 Comics courtesy of Orbital Comics, London. Planning a Hallowe'en party…
To coincide with this month's spine-tingling PCH : Pre-Code Horror Exhibition, we're hosting a very special Halloween Party, featuring a mega-jam signing session with numerous artists from the show, including Alison Sampson, Gary Spencer Millidge, Jason Atomic, Jessica Martin, Mark Stafford, Owen Michael Johnson, Ryan Jenkyns, and more.

The exhibition continues until Thursday November 13, but if you want to meet some of the artists and get their worked signed then be here from 6pm, Friday October 31. Save the date and keep your eyes peeled for further details!