Gareth Edwards's Monsters Getting Television Series Adaptation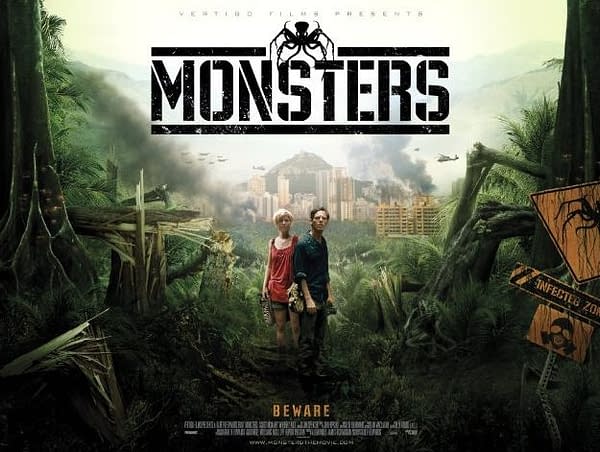 Gareth Edwards's directorial debut will be sliming and crawling its way to our screens, as UK broadcaster Channel 4 is set to adapt the Rogue One helmer's Monsters as a television series.
Ronan Bennett (Top Boy) is expected to serve as series showrunner, with newcomers Daniel Fajemisin-Duncan and Marlon Smith writing. Edwards is expected to have some involvement with the project, though the level of his commitment will be determined by when the project receives a full greenlight. Vertigo Films is currently looking to secure a major U.S. partner and are in talks with a number of networks and streaming services, including Netflix, Hulu, and Amazon.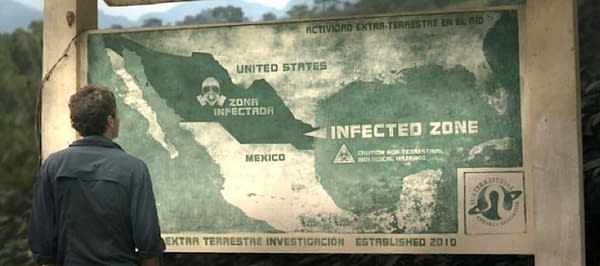 Released in the U.S. in 2010 by Vertigo and Magnet Releasing, Monsters is set six years after Earth has suffered an alien invasion; and in a world still reeling from the fallout, a cynical journalist (Scoot McNairy) agrees to escort a shaken American tourist (Whitney Able) — and daughter of his employer — through an infected zone in Mexico to the safety of the U.S. border.
Duncan and Smith have been having a pretty successful run as of late. Since writing the gritty mini-series Run for Channel 4, they've sold science-fiction project Red Star to Warner Bros. and 16th century historical drama Shadow Warrior to Paramount Pictures. Vertigo Films has also made a number of sizable television deals of late, including epic period drama Britannia, written by Jeremy "Jez" Butterworth (Spectre, Maleficent 2) for Sky and Amazon; and buddy cop drama Bulletproof, starring Noel Clarke (Doctor Who) and Ashley Walters (Cuffs), for Sky.
In an interview with Time Out in 2010, Edwards was asked about future plans after Monsters was a success:
"I've had offers. I think it's really important now to make the right decision. The way I look at it is this: there are sausage factories, and if you're invited to a sausage factory to prepare some steak, no matter what you do, if you're using the same equipment and the same process, it's going to come out as a sausage. So I'm just trying to avoid the sausage factories, to meet people who have previously cooked great steaks and not sausages. I don't know anyone, everything's new to me, so I can only judge people by the work they've previously done."