Grant Morrison Talks Happy! and How Networks Now Want "More"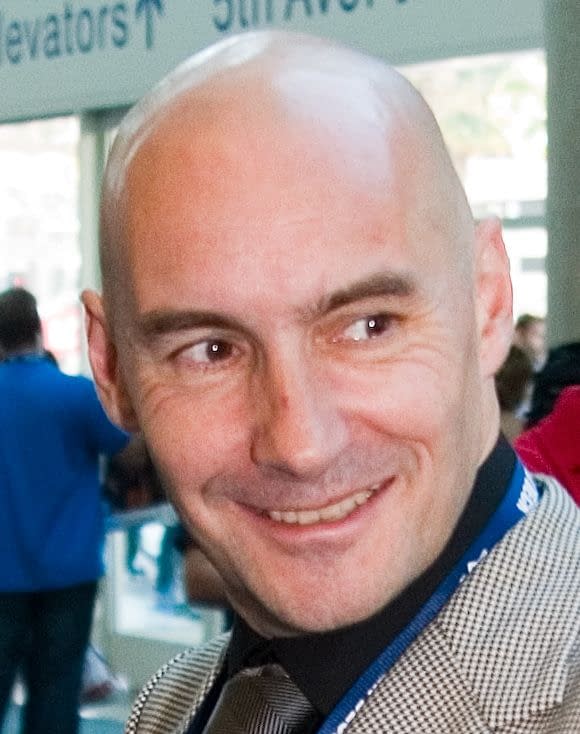 Over twenty years ago, shows like American Gods, The Handmaid's Tale and Masters of Sex had about as much chance at mainstream success as clear Pepsi and newly-flavored Coke. But over time, the networks were forced to contend with some heavy-hitting competition in the form of premium cable networks (HBO, Showtime), basic cable channels (AMC, TNT) and the growing influence of online/streaming services (Netflix, Hulu, YouTube Red). As more and more content providers started to pop up, there came the realization that to be a proper "content provider," you'd actually need content – and like tru TV discovered early on, a channel cannot survive on "reality" programming alone. Scripted content became key.
No one understands this more than writer Grant Morrison (Animal Man, We3), who is currently developing and executive producing Syfy's adaptation of his and Darick Robertson's graphic graphic novel Happy!. In his previous dealings with Hollywood, Morrison's usual MO is that he goes in already expecting to have to dial back whatever network executives found to be "too much" for the viewing audience to handle. During these highlights from his interview with ComicBook.com, Morrison addressed how the evolving definition of "television" has changed that dynamic between creators and the networks; and how it's become less about "less" and more about "more": ● For Morrison, we only need look to the current state of television to see just how far the boundaries of viewing standards have broadened since 2000:
"We're living in an age where we just had Twin Peaks and we have American Horror Story and Preacher. There are so many TV shows now that people are eager to such the boundaries because they want an original idea. I think that suits my sensibilities immensely."
● Morrison believes we're currently at a time when pretty much anything can be adapted for a viewing audience, without having to sacrifice the quality of the work. If Syfy's adaption of Happy! is a success, he wants Hollywood to know that he's got some ideas on how to adapt some of his other works:
"I don't think there's anything unfilmable. I've got takes on everything I've ever done, so if Happy! does really well and the phone starts ringing, I've got them all. I don't believe in the current climate that anything can't be done. Every night I turn on my TV and I see things I've never seen before." ● While dialing back material for the sake of "precious sensibilities" may have been the lay of the land in the past, Morrison is finding that the networks are now looking to go ever further with the works than what's on the printed page. With Happy!, that meant taking a story with a definitive beginning, middle and end and building upon it so that it lends itself to a life outside of the original work:
"If you look at the first episode, the pilot I think is very close to the first issue of the comic. But then, because we had eight episodes, I think we really had to expand out that world and build out mythology and add a whole bunch of new characters. That's what made it interesting; it's not so much a one-to-one correspondence, but it managed to capture the mood and the energy and the feel of the comic. Especially in the first couple of episodes, there's a lot of dark humor and a lot of violence and filthy energy; it's very punk rock. As we go on, there are other elements that come in. It's a Christmas story, so we got a bit of sentimentality and there's performances in there that will make you cry. I think what we set out to do was really touch on a wide range of emotional stuff, which is quite different from the comic. That's what made the two of them feel like different beasts even though they share a lot of the same points."
Happy! is based on New York Times best-selling author Morrison and Robertson's graphic novel of the same name, and stars Christoper Meloni (Law & Order: SVU), Patton Oswalt (Ratatouille), Joseph Reitman (Money Monster), Lili Mirojnick (Friends With Benefits), Patrick Fischler (Twin Peaks: The Return), Ritchie Coster (True Detective) and Zabryna Guevara (Gotham).
Join me every Wednesday night at 10:00 pm ET for Happy Trails, Bleeding Cool's live-blog of the eight-episode series. We'll have the live-blog post go live at 9:00 pm ET for some pre-game fun, so please make sure to check out Bleeding Cool's website and Twitter accounts (@bleedingcool, @bleedingcooltv, @bcoolfilm) for updates… and we'll see you then!