It's been 10 days since the events of The CW's Batwoman "The Rabbit Hole" and no one has seen a hint of Batwoman. The city is gripped in speculation of whether Gotham's Caped Crusader is back or not. In "Down, Down, Down," Kate Kane (Ruby Rose) deals with the moral complications of what she's done by creating an expectation that Batman is back, while dealing with enemies old and new. And yes, we finally get Kate into her own batsuit.
We open with Kate brooding in Bruce Wayne's office, the weight of the world on her shoulders. When the batsignal flashes outside her window, with distinctive bunny rabbit shadow puppets crawling across it, Kate heads down to meet (of course) Alice (Rachel Skarston) and propose a temporary truce. Alice then steals the entire episode by saying Kate's superheroics have made Gotham "horny for Batman." (Let's be real– we're ALL horny for Batman.)
And this is the axis around which the entire episode, or possibly even the show, revolves. What works so well in this episode is Kate's decision that because she can't put the superhero toothpaste back in the tube, she has to fill the vacuum left by Batman, but do it in her own way.
Enter our new antagonist, Tommy Elliot (Gabriel Mann). He's "an entitled 1% asshat" according to Luke Fox, who just bought a "douche palace"– the building next to Wayne Tower — so he could literally "look down" on Bruce Wayne and revel in his superiority. And he's throwing a party to celebrate it.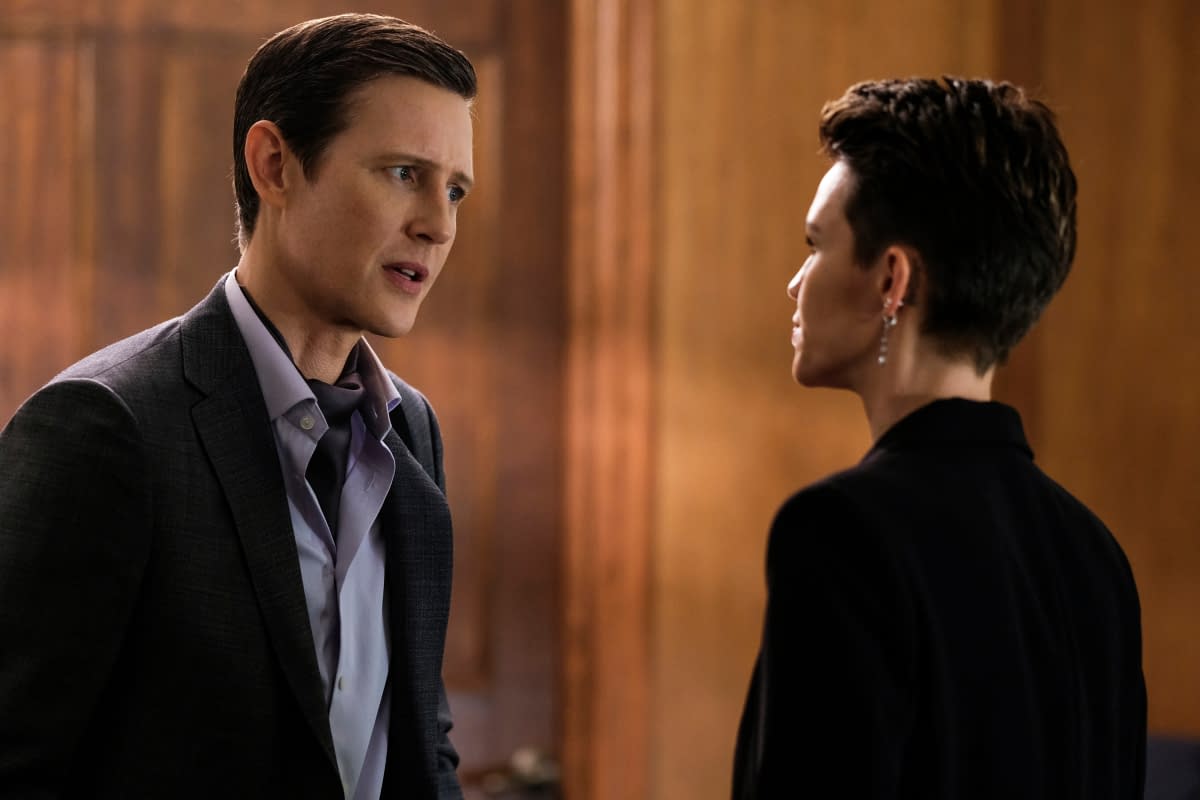 The scenes between Kate and Tommy are great. Those who know Tommy Elliot's alter ego from Batman comics will not be surprised at the character trajectory or reveals here, but they're pretty delicious to watch. In a scene late in the episode, he holds a bank of elevators hostage, including Kate's father and stepmother in one and in another her stepsister and her bodyguards from Crows Security, who just happen to be Sophie (Meagan Tandy) and her husband.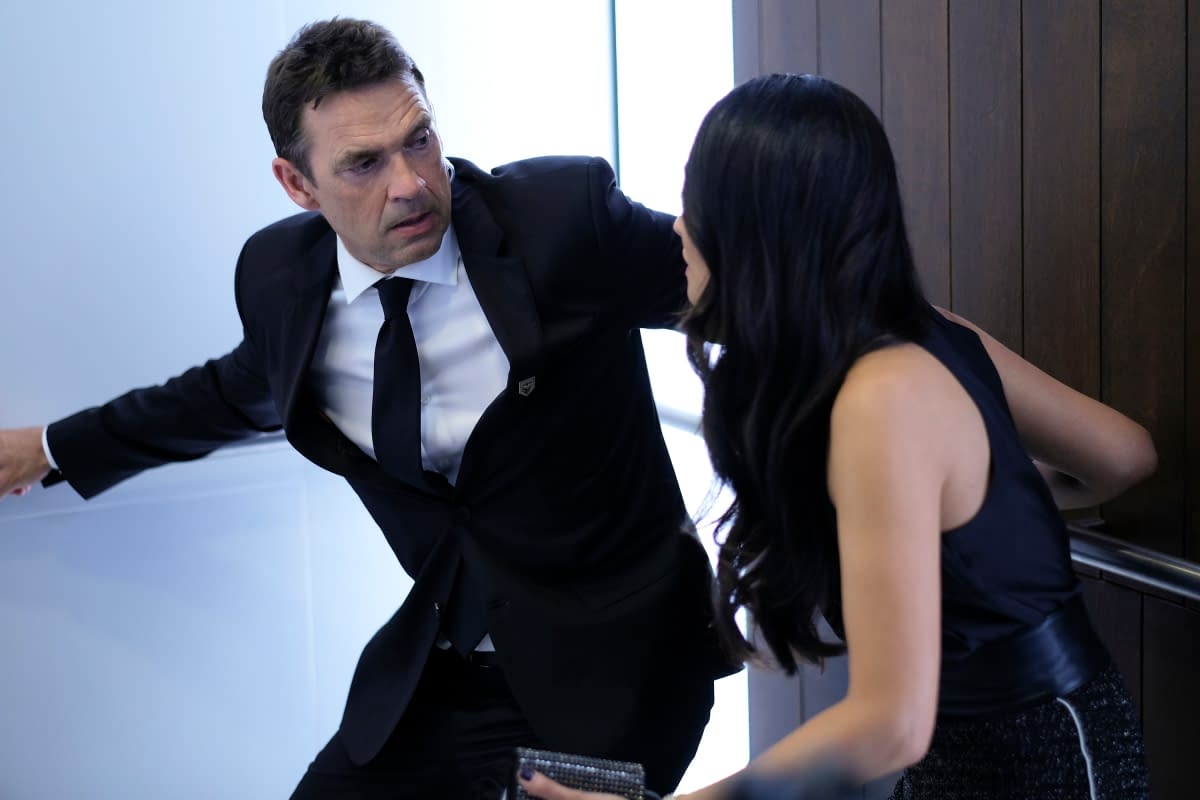 Batwoman –"Down Down Down" — Image Number: BWN103a_0209.jpg — Pictured (L-R): Dougray Scott as Jacob Kane and Elizabeth Anweis as Catherine Hamilton-Kane — Photo: Robert Falconer/The CW — © 2019 The CW Network, LLC. All Rights Reserved.
Ok, let's take a step back into the background storylines, where there's a lot going on. Nicole Kang as Mary Hamilton is one of the best performances on this show. While pretty much every main character is living some secret double-life, hers is the most interesting. By day she's a med student and socialite Instagram influencer, and by night giving out free medical care to Gotham's poor. And so when Stepdaddy Kane makes Sophie her bodyguard, it puts a damper on her samaritan activities. The two of them together are also a cocktail I didn't know I needed until I tried it and now I can't get enough of. Mary knows so much of what is going on, down to the fact that Sophie hasn't been honest with her husband about her past relationship with Kate. She also gives voice to a lot of fan questions, like, "So is Sophie bi? Or what?"
The other best, small moment in the episode is when Kate is at the douche castle housewarming party and meets Reagan, a bartender who really knows her stuff. She's read everyone in the room and has a great wit. Definitely some sparks there, and according to the previews for next week, we'll be seeing more of her. A lot more of her–but not as much as Kate. (Ha ha! Nudity joke!) Regardless, if Batwoman is going to hook up with someone, she could do a lot worse.
This is a fun episode, and one which moves our characters along in a major way. We also got gadgets and gizmos a plenty as we play with more of the bat-arsenal. It's a great mix of brooding, tech, character, mystery, and action– everything you want in a Bat-verse show. More of this, please.
Next week's episode is "Who Are You?" airing October 27, 2019 on the CW at 8pm ET/7 CT where we're going to be introduced to Magpie!
Enjoyed this article? Share it!