"Crisis on Infinite Earths: Part Four" Giant Stakes, Big Cameos, and Huge Climactic Battle Fitting Goodbye for "Arrow" Amell [SPOILER REVIEW]
Now THAT'S how you (almost) finish a crossover! As our paragons face off against the destructive power of the Anti-Monitor in the fourth chapter of "Crisis on Infinite Earths," they face a journey that threads the needle perfectly between the personal and the cosmic. It also provides one of the most perfect send-offs for our hero, Oliver Queen (Stephen Amell). After all, this is technically an episode of Arrow – the founding series of The CW's "Arrowverse".
Despite the central conceit being built around Oliver Queen, this episode actually spends a lot of its time focusing on The Flash (Grant Gustin) and Supergirl (Melissa Benoist). The Supergirl parts feel fun, especially as she faces off against an increasingly overpowered and manic Lex Luthor (Jon Cryer). At one point he spits the word "Kryptonians" with such disgust that it shows how studied Cryer's portrayal has become and how much fun he's having here.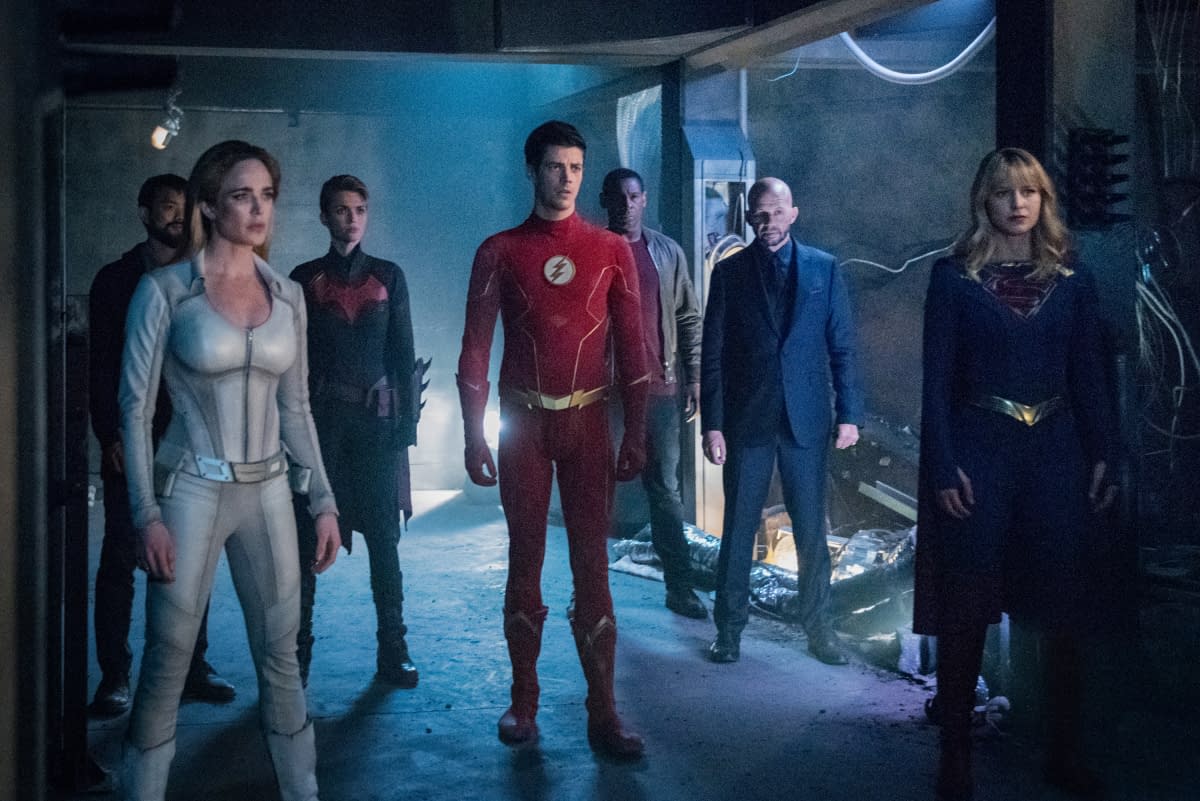 And then there's The Flash's stuff. The sad part of this is that most of this is sort of boring. It's understandable. It's a CW show. They can't have a Game of Thrones level epic battle and most of the action has to be saved for the final ten minutes. So there's lots of talky stuff as he runs through the Speed Force, especially in conversations with Oliver. What's troubling is how they decided to modulate everyone's voices, making a lot of dialogue garbled and hard to understand. More on this in a minute. And then there's the crossover that almost broke the internet as Gustin's Flash meets Ezra Miller's Flash.
This was a really beautiful moment, and one that shows the strength and audacity of the DC universe as a whole. It's great to see the tv side embracing this, almost as a knowing nod that this will immediately jumpstart a hype train for a Flash movie that has been sitting in development hell for years. Miller is great as The Flash, and this crossover was the stuff of magic.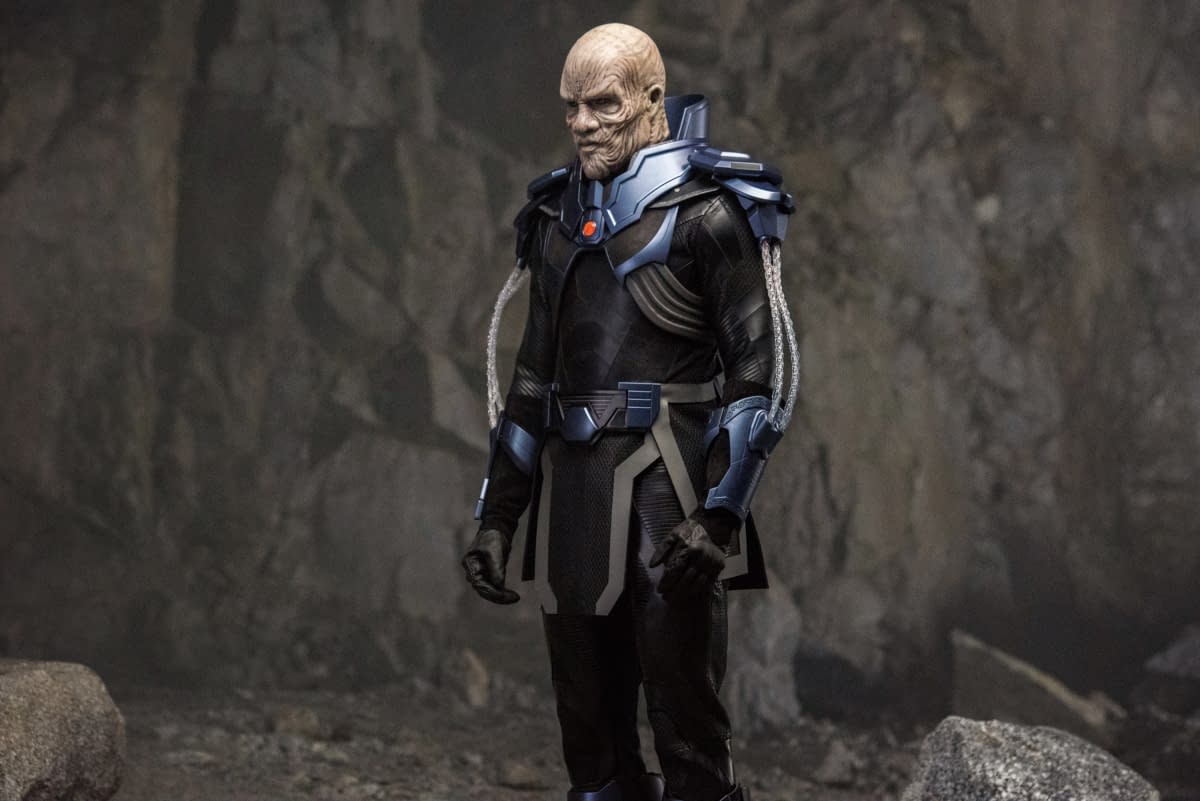 And then there's our big bad: The Anti-Monitor (LaMonica Garrett). Unfortunately Garrett is laboring under both an impossible costume but modulating his voice made me wish I had my closed captioning on. There is dialogue here that I literally have no idea what he's saying. In his final showdown with Amell in his new role as The Spectre, where they're garbling both their voices. . . it's just sort of terrible. I love this episode, but this makes my head hurt because it's just so inexplicable. It's the essence of "hat on a hat" to take voices as naturally resonant and beautiful as Garrett and Amell and modulate them to hell.
But I was all smiles when Oliver Queen triumphantly says to The Anti-Monitor, "You failed this universe." And, as cheesy as it was for our paragons to stand in a line and do their version of a Care Bear Stare, I loved it. If you've stuck through the CW shows this long, you probably embrace some of the cheese, and this was a huge plate of nachos drowning in gooey goodness.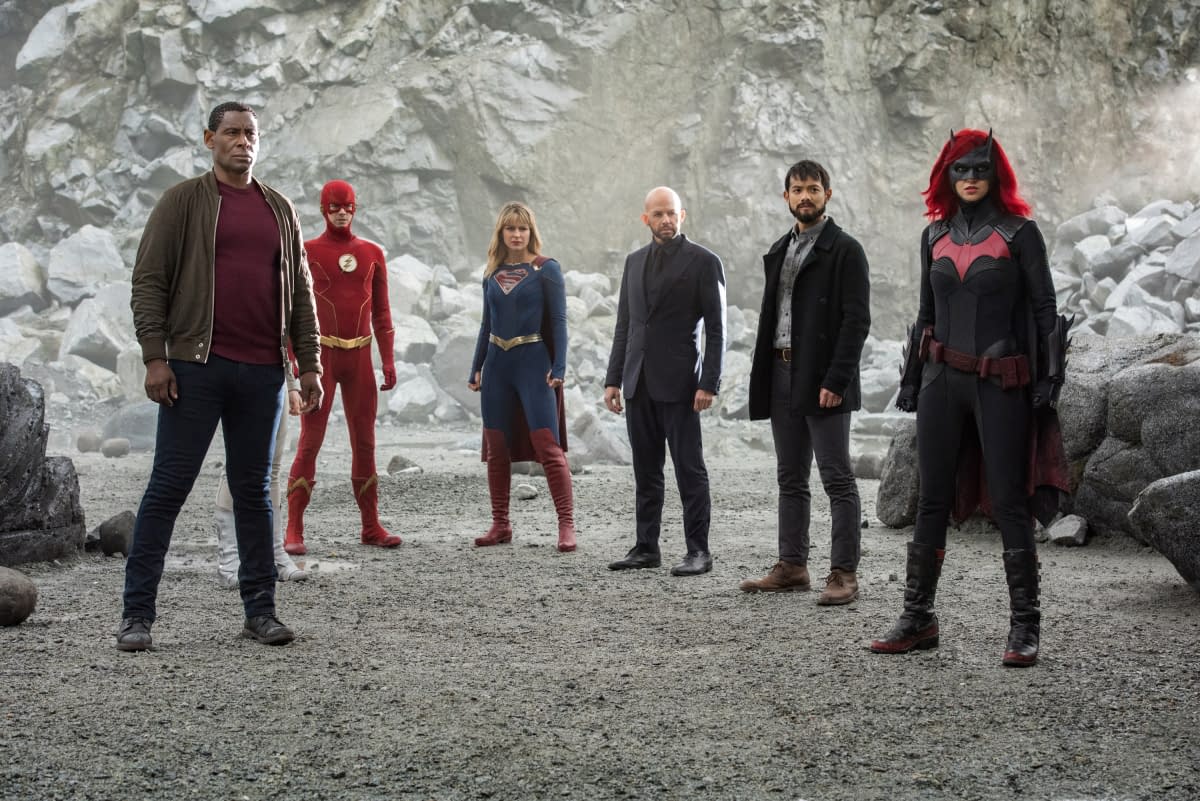 What makes this episode work, though, is its place as this fourth chapter in this saga. Here we actually get the major climax. Our first three episodes, we kept building the stakes and raising the stakes. By the end of Chapter 3, our heroes have lost everything. By the end of 4, they've won. And then in 5, we rebuild. (We'll get to that.)
But as the chapter designed to get our heroes out of the pit we've constructed for them, it's perfect. It also fully cements Kara and Barry and Sara as our new leaders of this brave new universe. I'm here for that and here for what this means in a post-"Crisis" universe. Which leads us to Episode 5, which was also great and for completely different (and wacky) reasons. See you on the other side to talk about that.