Justin Roiland/Rick and Morty, Doom Patrol & More: BCTV Daily Dispatch
In today's BCTV Daily Dispatch: Justin Roiland/Rick and Morty, Brendan Fraser/Doom Patrol, HIMYF, Superman & Lois, Supernatural, and more!
---
With today's BCTV DD "Long-Distance Dedication" bringing us Semisonic with "Singing In My Sleep," welcome back to the BCTV Daily Dispatch! Here's where we look back at what we've been doing for the past 24 hours that you might've missed or might want to check out again. We're talking about everything from news and reviews to interviews and opinion pieces- all for your television-obsessed enjoyment. Our line-up for this morning includes Adult Swim cutting ties with Justin Roiland but Rick and Morty continuing on, us wondering if Brendan Fraser's Oscar nomination could result in HBO Max bringing back Doom Patrol for Season 5, Hulu's How I Met Your Father creators discussing Neil Patrick Harris' return to the HIMYM universe & Barney's impact on the second season, The CW's Superman & Lois confirming Michael Cudlitz as their Lex Luthor, us hoping that the whole M&M's/Maya Rudolph deal is just a bad Super Bowl marketing plan from Mars, Inc., and Jensen Ackles wishing his Supernatural on-screen counterpart Dean Winchester a happy birthday… from a very familiar location.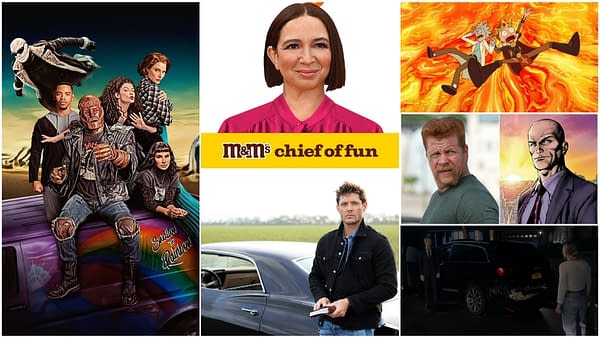 BCTV Daily Dispatch: Justin Roiland/Rick and Morty, Doom Patrol & Tons More!
Plus, check out our additional coverage: USA Network's WWE NXT/Raw, Paramount+'s Criminal Minds: Evolution, Disney+'s Willow, NBC's Law & Order, ABC's The Rookie, HBO's The Last of Us, Amazon's The Boys, The X-Files, CBS' Ghosts, NBC's Saturday Night Live, BBC's Doctor Who, and more!
Now, here's a look at your Bleeding Cool TV Coverage for Wednesday, January 25, 2023:
Doom Patrol: Is Brendan Fraser's Oscar Nom Saving Grace for Season 5?
NXT Preview: Will One Woman Hold The Tag Team Titles After Tonight?
Criminal Minds: Evolution Season 16 Ep. 8 Image: Voit Gets Desperate
Adult Swim Cuts Ties with Justin Roiland; Rick and Morty Will Continue
How I Met Your Father Creators Discuss [SPOILERS] Return & More
Willow: Christian Slater Discusses Stepping In for Val Kilmer & More
Law & Order: Mariska Hargitay Posts Christopher Meloni's BDay Reminder
The Rookie Season 5 Ep. 13 Preview: John & Bailey's Crowded Evening
The Last of Us Creators Discuss Fan Reactions to HBO Series Changes
Supernatural: Jensen Ackles Offers Dean BDay Wishes in Familiar Locale
WWE Raw 30 Recap and Review: Nostalgia is a Helluva Drug
The Boys: Vought CEO Ashley Barrett Shares Some Pre-Season 4 Updates
Superman & Lois Season 3: Michael Cudlitz Joins Cast as Lex Luthor
The X-Files: Yes, Fans Still Ask David Duchovny About UFOs & Aliens
Please Tell Us M&M's Pulling Its Spokescandies Is A Super Bowl Thing?
Creator Clash 2 Officially Announced For April 2023
Ghosts Season 2 Ep. 14 "Trevor's Body": Full Set of Images Released
Oscars 2023: Here Is The Complete List of This Year's Nominees
Saturday Night Live Intro Video Welcomes Michael B. Jordan & Lil Baby
Doctor Who: RTD Offers Williams, Bonham Carter & Mabuse Open Invite
Harley Quinn, HIMYF, Tim Allen, Drag Race & More: BCTV Daily Dispatch

Bleeding Cool TV on Instagram: For all of the stuff too random and bizarre to make the site, make sure to follow us on Instagram: Bleeding Cool TV (@bleedingcooltv).
BCTV Daily Dispatch: For a look at what's going on across the television and streaming landscape, sign up for Bleeding Cool's daily email round-up of the news you need to know here.