Robert Shearman, 2 Dalek Actors Join Doctor Who Global Rewatch
Emily Cook, organizer of the Doctor Who global rewatches, announced on Twitter that the next episode to get the treatment is "Dalek". This is the 2005 episode from showrunner Russell T. Davies' debut season and a major milestone. It reintroduced Daleks to a whole new generation of kids who didn't previously know about the most famous monsters from Doctor Who. Writer Robert Shearman will join the rewatch to livetweet along with Dalek voice Nicholas Briggs and Dalek performer Barnaby Edwards. The rewatch will take place on Thursday, April 30th at 7 pm British Standard Time (that would be 2 pm US Eastern Time). Viewers can follow the livetweet via the hashtag #TheMetaltron.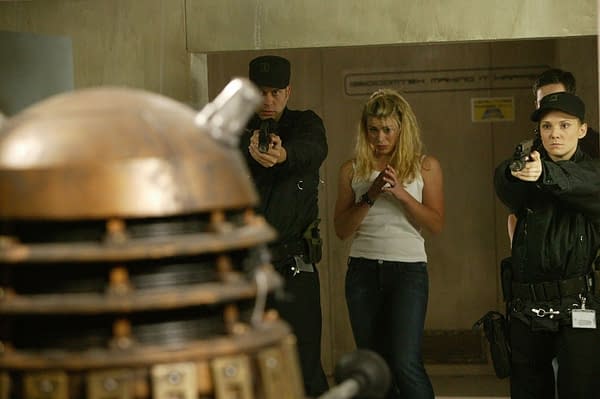 Shearman is a playwright and TV writer who wrote several acclaimed Doctor Who audio dramas for Big Finish. When Davies brought back the show for 2005, he invited Shearman to write the Dalek episode based on the latter's Big Finish drama "Jubilee". When Shearman first signed on, the production still had not gotten permission from Dalek creator Terry Nation's estate to use them yet. Shearman's original scripts did not feature a Dalek at all. He had to use some other alien menace as a substitute. That may sound inconceivable now, but Shearman went through draft after draft of rewrites without a Dalek. Then they finally got permission to use Daleks for the show, and Shearman had to rewrite the script to put the Dalek in it. In case you were wondering, the BBC has to pay Nation's estate for permission to use the Daleks on the show.
Under Davies and Shearman, the show had to show a whole new generation of viewers why Daleks are scary. Sure, they look like giant salt shakers with a toilet plunger sticking out of it. Can they even go up a flight of stairs? Yes. Much of their menace comes from their voice, which Nicholas Briggs has been playing through a voice modulator since the Big Finish audios in the 1990s. Barnaby Edwards was the first new operator of the Dalek since the old show ended. This episode helped cement the new show's success, so of course, it's worth a rewatch and read what some of the key players remember in retrospect.