With Unfair Advantage, AEW Dynamite Beats NXT in Ratings, Viewership
The Wednesday night ratings are in and it looks like AEW Dynamite came out on top with their first live show since the start of the coronavirus pandemic shutdown. AEW's ratings and viewership were both up, as well as their ranking in the top 50 cable shows for Wednesday, according to the numbers released by Showbuzz Daily. Dynamite was ranked 12th for the night, with a .28 rating in the 18-49 demographic and 732,000 viewers. That's a gain from last week, when Dynamite was ranked number 16 with a .27 demo rating and 693,000 viewers. But did AEW have an unfair advantage against their WWE competitors?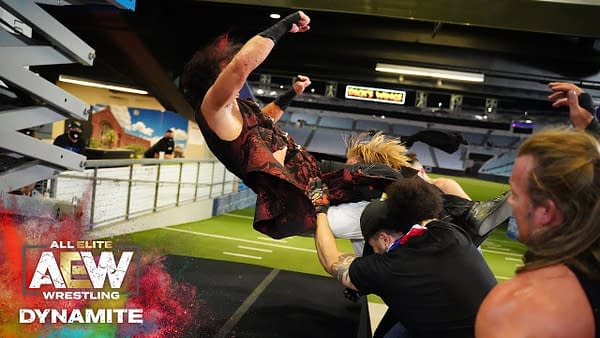 NXT didn't have a bad week by any means. NXT was back in the Top 50 shows, coming in at number 33 with a .18 rating and 663,000 viewers. Last week, they were ranked below #50 with a .16 rating and 637,000 viewers. So it's a definite improvement for NXT, even if they still failed to defeat Dynamite in the ratings or viewership. But AEW Dynamite had a distinct advantage over NXT that isn't NXT's fault in any way.
With a return to the live format and the return of some previously missing members of AEW's roster, Dynamite this week was a vibrant, entertaining show with exciting matches, lively commentary, and even the sound of a cheering crowd thanks to AEW wrestlers and crew that filled the first few rows at Daily's Place. How is NXT, with its sterile atmosphere, indistinct competitors, and abundance of Charlotte Flair supposed to compete with that? I mean, I prefer all of those things about NXT more, but I'm perceptive enough to understand that most people don't feel the same way I do.
The Bottom Line 'Cause Chad Said So
A lot of people have been attacking WWE for their ratings falling, but this week NXT's ratings went up. Will this finally cause all the people who have been saying mean things about WWE, and about me for trying to look on the bright side, on Twitter to apologize? Probably not. But it's good to see pro wrestling back on the upswing after a rough month and a half of quarantine, and The Chadster is looking forward to things getting even better, even if one thing I'm not looking forward to is the eventual return of wrestling crowds.