Aliens ReAction Figures Coming Next Week From Super7
Aliens ReAction figures are on the way from Super7. This wave will focus on the humans from the film, after a wave of Xenomorphs a couple of months ago, which are still available. Ripley, Hicks, Hudson, Newt, Vasquez, and android Bishop will all be open on gorgeous vintage style packaging. Bishop features pull apart battle damage, and Newt will even include her doll's head. All of the other additional ReAction figures will consist of accessories as well. Each features five points of articulation and will cost you $18 a figure. You can check out all six of the new figures joining the line down below.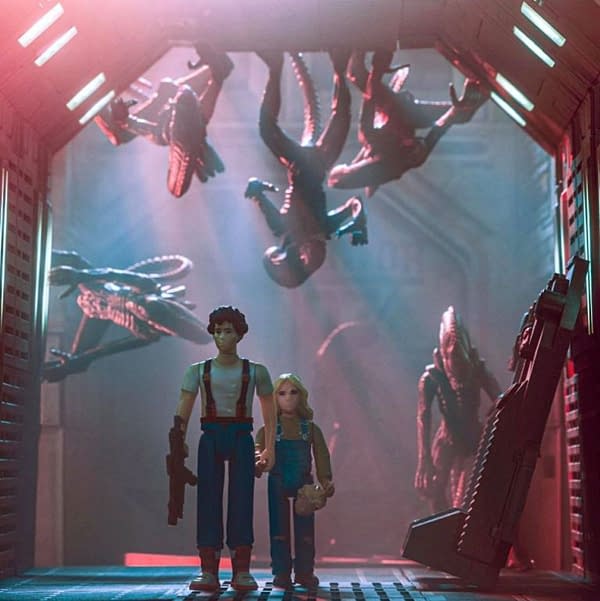 Super7 Aliens ReAction Figures Build Out Your Collection
"Stop your grinnin' and drop your linen!" Coming in HOT next Wednesday (5/6) from one of Super7's favorite movies are the HUMAN additions to the Aliens 3.75" ReAction Figures assortment! Joining Ripley, Newt and Bishop are Troopers Hicks, Hudson, and Vasquez! All come with accessories (including Newt with doll's head) and Bishop features pull apart attack damage! NEXT WEEK it's "Game over, man!! GAME OVER!"
Super7 continues to knock the ReAction figures out of the park, and not just the baseball ones. Sorry, I had to. Their Alien line has been running for years now, and these figures have been a long time coming. I think the Marines are my favorites, any excuse to add Bill Paxton to my figure displays is alright with me. Bishop is also incredible as well, though. These are must-own for any Alien collection, so make sure to get an order in at Super7 next Wednesday when these go on sale.