Ant-Man and The Wasp LEGO Set Coming Exclusively to SDCC
Ant-Man and The Wasp is now in theaters here in the US, and the celebration will continue two weeks from now at SDCC. An exclusive LEGO set will be at the con, featuring a Hope Van Dyne Wasp minifig and Scott Lang in his Giant-Man form from the film. The collectors box features the SDCC logo, with our heroes in action. The set will consist of 218 pieces, most of which are Giant-Man.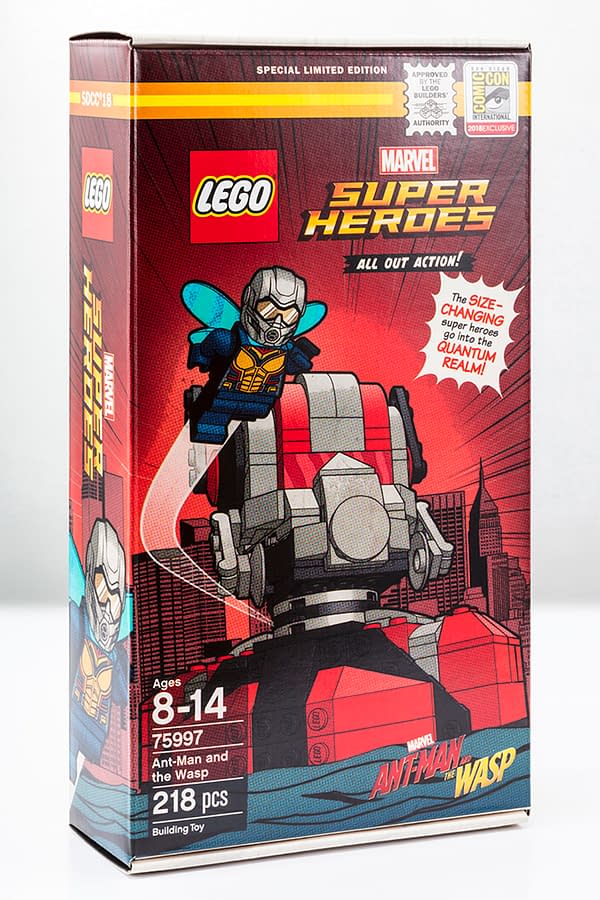 Scott Lang and Hope Van Dyne are featured in a new set coming to SDCC!

With Marvel Studios' "Ant-Man and the Wasp" now playing in theaters, fans attending San Diego Comic-Con later this month will have the chance to get an exclusive new Lego set inspired by the film!

The SDCC "Ant-Man and the Wasp" Lego set is comprised of 218 pieces and will retail for $40.00. It includes a Hope Van Dyne / Wasp minifigure and Scott Lang in his Giant-Man incarnation, as seen in the film. San Diego Comic-Con runs July 19-July 22.
I really like that Wasp minifig, and as I said about the film version, that costume is super cool. This is a neat way to get us a Giant-Man set to put on the shelf as well, like a LEGO bust if you will.
This will be a hard-to-get exclusive, like all LEGO ones are. There is a lottery system in place this year, which if you are attending is the only way to get an opportunity to get your hands on this. You can try your luck if you are a badge-holder by logging into your account and clicking the exclusives tab.