A lot of events during the summer of 2020 have sadly been postponed including one of America's favorite past times, baseball. Collectibles companies like Forever Collectibles (FOCO) have plenty of baseball collectibles to help pass these summer blues. Recently the company announced its partnership with DC Comics bringing fans and collectors some very interesting new bobbleheads. Batman and Superman are making their way to your favorite Major League Baseball (MLB) team with these new and pretty unique collectibles. Thanks to FOCO we were able to get our hands on two of their upcoming DC Comics/MLC collectibles so let us dive in with our review of these superhero/baseball mashup bobbleheads.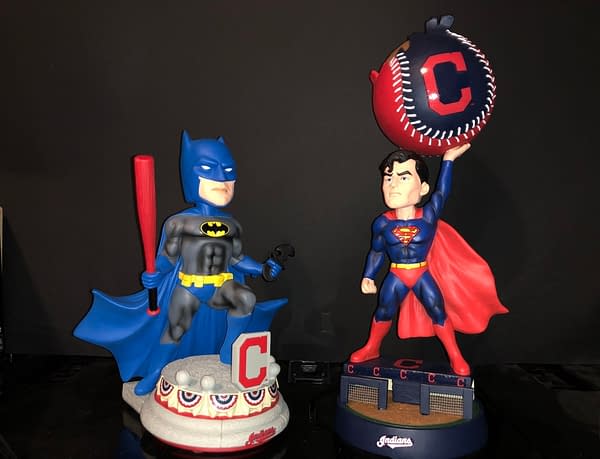 Right off the bat, when I saw these bobbleheads I immediately thought of baseball stadium special events. Specifically, days where they host Batman or Superman days and have games around the stadium. On days like that, they sometimes have prizes for fans who get into the stadium first like first 500 people, etc. These statues carry that vibe and I absolutely love everything about them. There are not many collectibles that can take the risk to pull off combining superheroes and sports but FOCO does it right. For these two bobbleheads, we are looking at the Cleveland Indians variants but there are plenty of MLB teams out there to get and you can see all the teams available here. The Batman bobble places a nicely sculpted blue and grey bat-suited Dark Knight standing on top of the stadium with your team's symbol below. Each base color scheme changes depending on your team's logo but with the Indians, we get nicely colored red, white, and blue banners with the Cleveland Indians name at the bottom. Batman will also be holding a batarang in his left hand and a red colored baseball bat in his right. This bobble is a great starter of this line of figures if FOCO continues the series. The design of the Caped Crusader is very well done and the placement on the stadium with your team's favorite logo brings it home and makes it personal.
Superman flies on in next with the second bobblehead coming from the FOCO DC Comics line. This statue has a lot more going on than the Batman one and it's a worthy collectible for any sports or Superman fan. This time, Superman is standing on the dugout of the Cleveland Indians with the symbol spread out all over it. The dugout is very well designed with even wire being inserted in the walls of the design. The Superman bobblehead is also very well sculpted with his suits bright blue and red colors showing and his iconic symbol on his chest and cape. Superman holding a torn baseball of the Cleveland Indians in his left hand. The baseball shows the team's symbol and the ball has the effect that is was torn from a home run which is nicely done. This will be a must-have for any dedicated sports fan and Superman enthusiast as it brings together two very popular franchises into one simple collectible.
It seems that both of these statues are limited to only 2,020 pieces. I would imagine that is for each team which is pretty great know they are also limited edition collectibles. The wide variety of teams for these DC Comics bobbleheads make them an easy purchase for any sports fan whether as a gift, sport even, or even just to have them in your collection. These collectibles are very well sculpted and while they could be out of place on your shelf they combine to bring together two big past times, baseball and comics. Instead of waiting in line to get one of these, you can just buy the one that suits your own fandom. Each statue is priced at $35 and you can find all the Batman and Superman bobbles in one place located here. I hope we can see more DC Comics heroes in the future take on our favorite teams. It would be pretty awesome to see the Justice League unite under the Cleveland Indians banner. I am excited to see what FOCO has planned for this line in the future and I can't wait to see who steps up to the plate next.