Beetlejuice Swaps Genders and Seduces with New Kotobukiya Statue
Beetlejuice is back! It looks like more schemes are afoot though and this time it looks like SHE has her own tricks up her sleeve. This time Kotobukiya has unveiled a new Beetlejuice gender-swapped Bishoujo statue. This isn't a new idea as we have seen other famous horror icons like Jason and Freddy Kruger getting "sexy" upgrades. This time we have Beetle sitting upon a gravestone filing her nail with a grin on her face. This gender swapped idea pretty neat and I wouldn't mind seeing more than them just once in a blue moon. I am curious about what horror star be next and have their time to shine as a lucky lady. These statues details and coloring are crafted perfectly and it would go great in any horror fans collection.
The Beetlejuice Kotobukiya Bishoujo Statue will be priced at roughly $110 and get to haunt in June 2020. Pre-orders are not live just yet but when they do you can find them located here. Don't forget to check out the other Bishoujo statues available from Kotobukiya.
It's Showtime!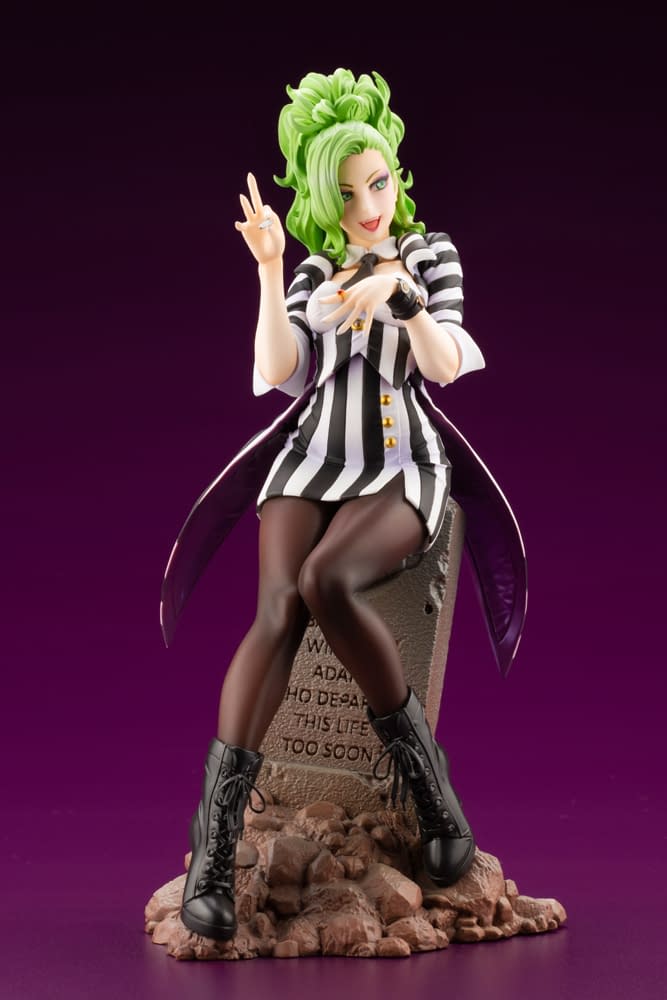 BEETLEJUICE BISHOUJO STATUE
Much to the surprise of many fans, Beetlejuice joins the Kotobukiya HORROR BISHOUJO series featuring the art of Shunya Yamashita!
The strong makeup and half-up ponytail bring out the free spirited personality and energy exuding from Shunya Yamashita's unique design.
Beetlejuice can be seen filing her nails while leaning against the tombstone as could be seen in the film that inspired this statue.
The black and white striped jacket is sculpted as a tailcoat and is finely sculpted down to the tip of the coat. Beetlejuice's fashionable looks can also be seen from the multiple watches on Beetlejuice's wrist to the ring decorated with a large stone in the center!
Add this cute yet sexy statue to your collection today.