Deadpool Dusty Edition Hot Toys Figure Coming Late 2019
Deadpool has yet another Hot Toys release on the way in late 2019. This version will be from the end of Deadpool 2 when he was covered in dust and such to make it look like his comics X-Force suit. Hence why this is called the "Dusty" version. He will come with his power dampener neck collar, katanas, five pairs of interchangeable eyes for different expressions, multiple pairs of hands, daggers, pistols, throwing stars, and all sorts of other things. Her has over 30 points of articulation, and stands over 12 inches tall as always.
Check out pics and full details below!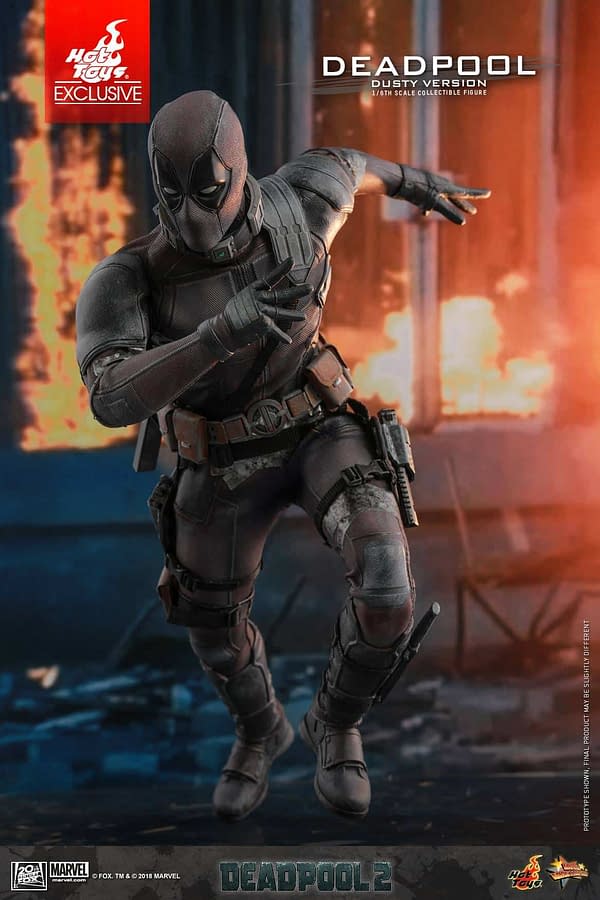 "Let's flip a coin, okay? Heads, you did it for me. Tails, you did it for me."- Deadpool

Here comes the infamous Deadpool! Everyone's favorite filthy, foul-mouthed Merc was back on the silver screen earlier this year with another successful Deadpool sequel. The red-suited mercenary otherwise known as Wade Wilson is battling time traveler Cable, to protect a fire-wielding mutant youth, while assembling some fellow mutants he calls X-Force, an offshoot of the X-Men.

Following the debut of Deadpool from Deadpool 2, Hot Toys is thrilled to introduce an addition 1/6th scale collectible figure of Deadpool (Dusty Version) inspired by the final battle scene as a Hot Toys Exclusive item!

Expertly crafted based on the character's appearance in the movie, the highly-accurate 1/6th scale collectible figure features a masked head sculpt with 5 pairs of interchangeable eye pieces to create numerous combinations of Deadpool's expressions, a finely tailored suit covered with ash-like painting effect, Wade's signature weapons including a pair of metal swords, a dagger, and pistols, a wearable neck device, a time traveling device, two pieces of coins, battle damaged bandage sticker, variety of interchangeable hands available for different gestures, and a specially designed Deadpool 2 themed dynamic figure stand!

This finely crafted collectible figure will make a lasting impression to any Marvel's superhero collection!

Specifications:
– Height: Approximately 31 cm tall
– Points of Articulations: 30
– Special Features: Specially features a finely tailored suit covered with ash-like painting effect & battle damaged bandage sticker
– Artists: Head Sculpted by Kojun
– Head Painted by JC. Hong
– Head Art Directed by JC. Hong

The 1/6th scale Deadpool (Dusty Version) Collectible Figure specially features:
– Authentic and detailed likeness of Deadpool with battle damage in Deadpool 2 movie
– A Deadpool head with five (5) pairs of interchangeable eye pieces that can create numerous combinations of Deadpool's expressions
– Approximately 31 cm tall
– Body with over 30 points of articulation
– Twelve (12) pieces of interchangeable gloved hands including:
– One (1) pair of fists
– One (1) pair of relaxed hands
– One (1) pair of katana holding hands
– One (1) pair for gun holding hands
– One (1) pair of finger pointing hands
– One (1) thumb-up right hand
– One (1) OK-sign left hand
– Each piece of head sculpt is specially hand-painted

Costume :
– One (1) meticulously tailored black colored leather-like Deadpool suit covered with ash-like painting effect
– One (1) battle damaged brown-colored leather-like belt with buckle
– One (1) pair of thigh gun holsters
– One (1) dagger sheath on shin
– One (1) pair of black-colored shoes with weathering effects

Weapons:
– One (1) dagger
– Two (2) metal katanas
– Two (2) pistols
– Two (2) shurikens

Accessories:
– Two (2) pieces of coins (normal and damaged)
– One (1) time traveling device
– One (1) sheet of battle damaged bandage sticker
– One (1) pair of katana sheath
– One (1) wearable neck device