First 4 Figures Introduces Spike Spiegel Figure from New Cowboy Bebop Line
If you're one of the diehard Cowboy Bebop fans on the planet, First 4 Figures just found a new way to make you scream "shut up and take my money!" Today the company released images and video of a brand-new line of figures centered on the cult classic anime, and the first off the assembly is Spike Spiegel. The figure stands on a black base with blue and black images of Spike along the sides and the Cowboy Bebop logo on the top. He is 20.5" tall with a 10" radius in all directions and weighs about 5.5 lbs.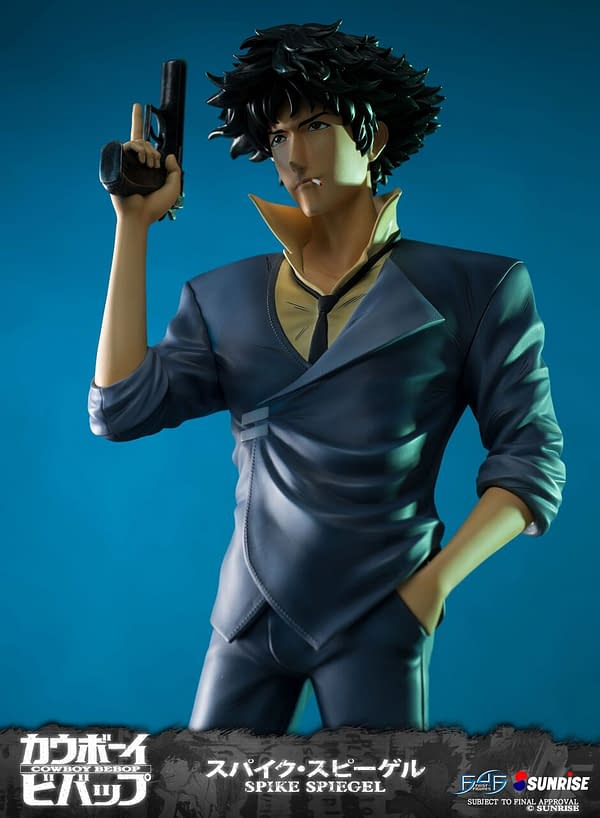 The nice little touch that they threw on the character, aside from his traditional yellow and blue suit with a cigarette hanging from his lip, is that his right arm is interchangeable. You can pose him with him holding his pistol straight in the air, or you can change it out for him making the "bang" finger at someone.
Pre-orders are currently happening until August 21st for the whopping price of $350, with a release date planned for the third quarter of 2019. You can check out the extended trailer below as well as a special 80-minute look at the figure from its creators at the company.