Funko has unveiled a new line of Pop Vinyls that are in support of Breast Cancer Research. To celebrate this moment Funko has even donated $25,000 to help aid the mission of the Greats Cancer Awareness Research Foundation. Four of your favorite DC Comics characters will be donning pink in these new repainted figures. Wonder Woman, Batman, Superman, and Harley Quinn are back and are better and pinker than ever. Each character mold is one we have seen plenty of time but not they carry the weight of the Breast Cancer Awareness Research.
With so many fans Fanatics out there, these will be a great hope for some fans. The design is cool and unique and that Superman in pink is just a must have. I feel like we have seen pink versions of Batman and Harley Quinn in the past though but they will all feature new pink packaging that really pops! It would be nice to see more DC characters get the BCRF repaint giving us a pink Green Lantern and Flash. All of these DC Comics BCRF Funko Pops are already up for pre-order and you can find them most located here. You can also check out the Funko BCRF Blog post here. Will you be picking up one of these pink heroes?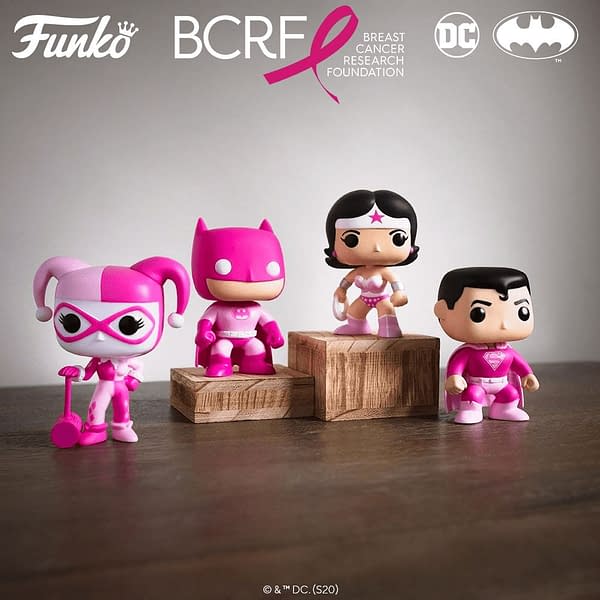 "Superman, Wonder Woman, Batman, and Harley Quinn suit up in pink for new Pop! figures to show support of Breast Cancer Research. This special DC Pop! collection is made in celebration of Breast Cancer Awareness Month coming up in October. Funko has made a $25,000 donation to the Breast Cancer Research Foundation to help aid in their mission to prevent and cure breast cancer by advancing the world's most promising research."
Enjoyed this article? Share it!